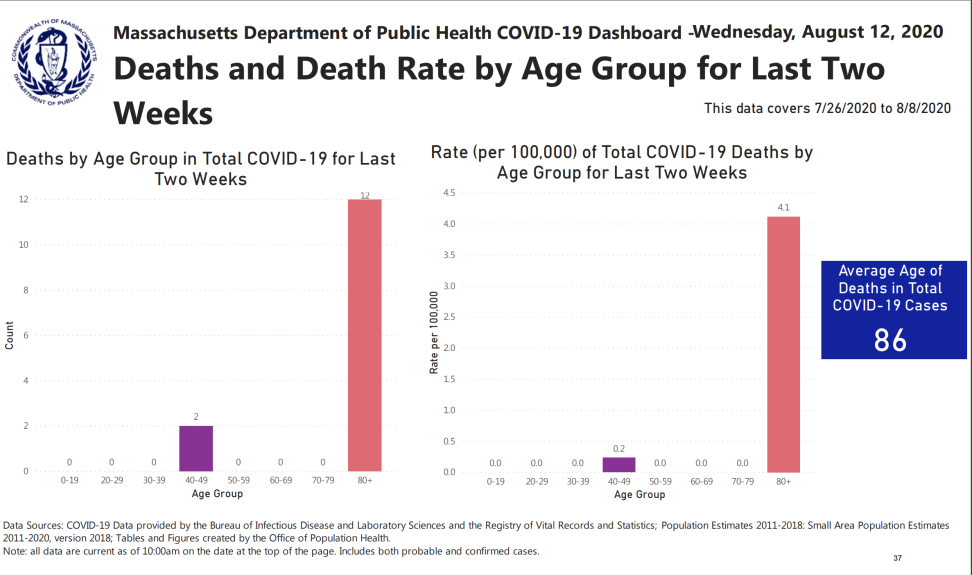 CLICK ABOVE GRAPHIC TO ENLARGE
The state of Maskachusetts keeps very detailed records of the death toll from the virus. And they're all public.
For instance, on page 11 of what is called the daily coronavirus dashboard, the state Department of Public Health (DPH) reports that between July 26 and Aug. 8, 160 Massachusetts residents died of the virus.
But on page 37 of the weekly report, the DPH reports that only 14 Massachusetts residents died in that same fortnight.
So which is it – 160 or 14?
On the afternoon of Aug. 6, the DPH recorded that the virus had killed another 32 MA citizens — which made for big headlines that evening in the credulous, brain-dead Boston media.
Now, however, the DPH reports only 12 people died that day.
Which is it — 32 or 12?
On one page the DPH reports that the average age of decedents in this state is 82. On another page, the average age is listed as 86.
Which is it — 82 or 86?
None of this makes any sense, unless you're creating "statistics" to try to keep the hysteria going — to continue the lockdowns, crush the economy, keep the schools closed, etc.
If that's the strategy, it's certainly working, considering that Gov. Charlie Parker now boasts the highest unemployment rate in the nation — 17.4%....
Let's return to Aug. 6. This was right about the time that the dithering fool who is governor was wringing his hands about the "slight upward uptick." Again, the original number of deaths reported that afternoon, to great media fanfare, was 32.
Now on the daily chart the number of dead on Aug. 6 is listed as 14.
But since the weekly dashboard now gives the entire July 26-Aug.8 death total as 14, it appears the real number for Aug. 6 was closer to … one. One death.
And so, on the basis of fraudulent data, we now endure another tightening of the screws — more idiotic restaurant policing, outdoor gatherings cut from 100 to 50, more Karens emboldened to rat out their neighbors on the governor's odious snitch lines and so forth....
I got interested in the DPH's phony numbers last week, when they abruptly removed the most revealing chart on their daily dashboard, "Deaths and Death Rate by Age Group."
By itself, that one chart put the lie to Charlie Parker's daily doses of panic porn. On the last day it appeared, the DPH listed the number of deaths of MA residents under the age of 20 as zero.
I repeat, zero deaths from the virus in Massachusetts among those under the age of 20. Massachusetts deaths between the ages of 20 and 29: 17.
Between the ages of 30 and 39: 35 deaths.
In all, of the state's 8,582 deaths as of Friday, exactly 146 have been of people under the age of 50....
Still, even the truncated new chart proves the idiocy of the shutdown — of the 14 deaths on the new chart, 12 were of people over the age of 80. And during those two weeks, there were no deaths — none — of anyone under 40, or between the ages of 50 and 79.
Those are the DPH's own numbers.
I'm going to keep tweeting out the charts every weekday. But maybe I'll concentrate even more on nursing homes — you know, the facilities whose operators gave Tall Deval more than $52,000, and in an odd coincidence 5,585 of the state's 8,529 deaths have occurred there.
From Wednesday to Friday, the state recorded another 53 deaths, 51 of which occurred in Gov. Charlie Parker's death houses. It's all right there on page 15. The chart is labeled "COVID-19 Cases in Long-Term Care Facilities."
The Boston Herald
Saturday, August 15, 2020
Charlie Baker's panic-porn coronavirus data doesn't hold up
By Howie Carr
---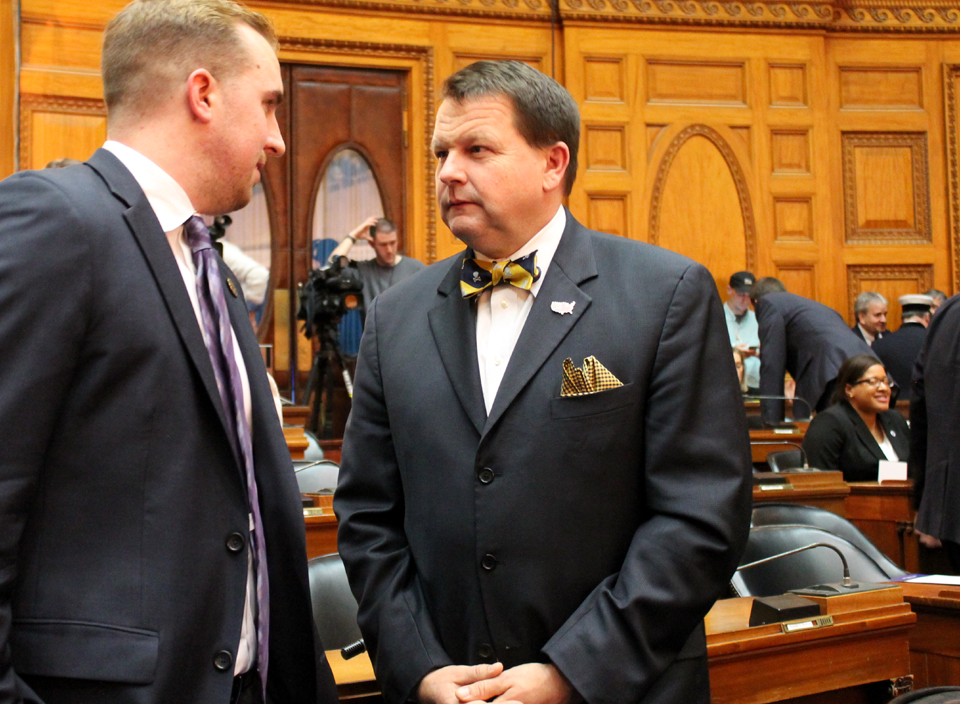 Rep. Shawn Dooley (R-Norfolk) — SHNS File Photo - 2017
Well, King Charles is at it again. A few people dared to disobey his coronavirus order so he is going to punish all the rest of us. He now orders outside gatherings to be dropped from 100 to 50. So if you have a wedding coming up and planned everything around the guidelines — too bad. And if you go ahead with it, the Governor is going to fine you, to boot.
The part that bothers me the most is the almost gleeful approach to enforcement — as if our police have nothing better to do than break up a wedding reception with 75 people that are there by their own accord. Ugh.
Incidentally, I'm not attacking Charlie Baker as a person. I'm frustrated with his tyrannical decrees, the lack of checks and balances, and the randomness of who is on the naughty list and who Santa Baker deems to be good little boys and girls....
Next thing King Charles will be levying a tax on our tea — and we will just smile and say he knows best and is doing this for our own good.
That's ridiculous. WE THE PEOPLE should be able to live free and not be told that if we have the audacity to go for a bike ride that crosses over an imaginary line we must surrender that freedom.
If you think I'm being overly dramatic, consider how the government overreach has continued to grow. Remember when we just needed to suck it up for a couple of weeks and be team players so the hospitals wouldn't get over run and then everything would go back to normal? This is NOT back to normal.
Now, if some people throw a party with a ton of people not wearing masks and doing all sorts of other irresponsible things during this emergency situation – fine, hammer them. But if you tell me that if I follow all these CDC, Fauci, DPH, WHO, WEbMD guidelines then I will be fine but King Charles Duane Baker IV will punish me anyways — then it isn't about the guidelines and safety. It is about power and control.
I've had so many people reach out with 100 other scenarios that are being affected by this big government power play, and I am frustrated that I have nothing to say to them except the King thinks he is smarter than us commoners and he is saving us from ourselves — freedom be damned.
The New Boston Post
Monday, August 10, 2020
The Governor Has No Robes On
By [State Rep.] Shawn Dooley
---
As Gov. Charlie Baker continues to hammer away at flattening COVID-19 with measures like reduced gathering sizes and restrictions on certain out-of-state travelers, a fellow State House Republican thinks the hammer is being swung much too hard -- and is planning to support a lawsuit in the state's highest court challenging the governor's authority.
Rep. Shawn Dooley took to Facebook late Friday night to question the constitutionality of the quarantine and testing conditions that Baker recently placed on some people traveling from Rhode Island into Massachusetts.
"On it's [sic] face I was ok with it until I started reading into the specifics and began to think of different scenarios where he was depriving Massachusetts residents of their personal liberty by this completely subjunctive edict," Dooley wrote in his self-described "bashing the Governor rant" which was re-published as an op-ed in the conservative New Boston Post.
"BTW," Dooley wrote, "I firmly believe this is unconstitutional and I'm trying to find an attorney to help me file suit in federal court -- so if you know someone, please let me know." ...
In response to a question about Dooley's post, Baker said Tuesday that by giving options to interstate travelers -- quarantine, testing before arrival, or testing after arrival -- "we believe it meets any Constitutional test that would be associated with that."
"And as I said last week, Rhode Island -- I mean, the numbers are the numbers," Baker said. "We had set a travel advisory based on a certain set of criteria and they exceeded them. And if they come back down and fall under them, then we'll change our policy. But as it stands right now, we're giving people coming from Rhode Island options with respect to how to meet the terms of our advisory. ... So I'm not worried about a challenge on that one."
Dooley said Wednesday that he would have preferred Baker to urge caution through a travel warning rather than threaten $500 fines, adding that it "smacks of 'not America.'"
House Republican Leader Brad Jones said Wednesday he had not seen Dooley's post but planned to look for it and reach out to him.
Jones assessed that House Republicans are "probably generally" supportive of Baker's actions in response to COVID-19. "I think there are specific issues that people have concerns about. One of the challenges is that everybody represents different areas with different experiences, different interactions with COVID," he said.
Second Assistant Minority Leader Betty Poirier, whose district abuts Dooley's along the North Attleboro-Plainville line, told the News Service she respects the governor but also understands how Dooley feels.
"I think all of us feel kind of mixed feelings about the whole thing. I have tremendous empathy with all the business people, I'm very close with many of them in my district," Poirier said. "Fortunately, we live in an area of the state that has been not as affected as some other areas, so perhaps we don't feel the same kind of urgency that other places feel. But I understand how Shawn feels. You know, there are many people who feel like he does." ...
Longtime MassGOP activist Ed Lyons, a computer programmer and pundit who worked on Baker's 2015 transition team, expressed admiration for Dooley, calling him "the best of us" and "a great political player," but said his commentary was "outrageous" and represents a growing schism between the state's top elected Republican and the party apparatus which leans more conservative.
"To attack him as if he is some sort of uncaring monarch is unthinkable," Lyons told the News Service. "It shows that this enduring exercise of massive government power is wearing out the conservatives who oppose government power ... and they are bristling under it."
Asked Tuesday about Dooley's concerns with the Rhode Island restrictions, Baker did not indicate whether he had read the Facebook post in which the Norfolk Republican referred to the governor variously as "King Charles," "Cavalier King Charles Spaniel Baker," and "King Charles Duane (not the rock) Baker, IV."
"I'm sure he might disagree, but this isn't done as anything against Gov. Baker," Dooley said Wednesday. "This isn't personal, this is something I firmly believe as a representative of my district. ... Taking away somebody's liberty should be done very judiciously, and it should not be a kneejerk thing because some kids in Providence had a party and caused a little spike."
Dooley said he had reached out to Baker's office indicating he was "happy to chat" but had not heard back, though he had heard from several legislators -- Republicans and several Democrats -- who thanked him for his article and said they agreed with his points.
"I truly believe he's doing what he feels is in the public's best interest," the Norfolk Republican said. "But my argument against that is it's a slippery slope. ... Especially as a Legislature, if we allow the executive branch to start doing our jobs for us, and not have oversight and not have debate and not have deliberation, and randomly declare 'I have to do this because it's an emergency,' where does it stop?"
State House News Service
Thursday, August 13, 2020
Norfolk Rep Says Baker Overstepping Emergency Powers
Poirier: "There Are Many People Who Feel Like He Does"
---
A Norfolk state representative says he supports a lawsuit against what he calls Gov. Charlie Baker's "overreach" in response to the coronavirus pandemic.
Rep. Shawn Dooley, R-Norfolk, said his comments are "not necessarily attacking the quarantine, the restrictions, or even the fines," but rather the way the governor — or "King Baker" as the representative calls him — has approached their implementation.
"I was criticizing the Governor for his overreach of power and bypassing the legislature and due process with his orders, fines, and special police force as opposed to the handling of the crisis in general," Dooley wrote in a Tuesday Facebook post....
After last week threatening to sue the Baker administration, Dooley on Wednesday said he no longer plans to file his own lawsuit and would instead file an amicus brief to an existing suit scheduled for arguments in September.
That lawsuit, already weaving its way through the Supreme Judicial Court, was filed by the New Civil Liberties Alliance in June and challenges whether Baker had the lawful authority to execute many of his pandemic-era emergency orders — including those shuttering businesses and requiring face coverings.
It argues Baker overstepped his authority and questions his use of the Civil Defense Act to declare a state of emergency.
If the suit is successful, it would invalidate many of the orders Baker has created to address the coronavirus outbreak, some of which have triggered a backlash from the hard-hit small business community....
Reached by phone on Thursday, Dooley said, "I believe in the rule of law and I believe we have checks and balances for a reason.
"I don't believe one person should have this level of authority — especially since it's not truly an emergency at this point," Dooley told the Herald.
In his post, Dooley said "the road to hell is paved with good intentions" and called Baker out for bypassing the Legislature and not following proper government process to enact new laws.
"I know in my heart of hearts that once we start surrendering our basic liberties and allow one man to make law on his own without due process, testimony, debate, or any other safeguard that makes our democratic republic so special — it is a slippery slope," Dooley wrote.
The Boston Herald
Thursday, August 13, 2020
Norfolk rep endorses suit against 'King Baker' over 'slippery slope' of
government overreach during coronavirus pandemic
Claims overreach during pandemic
---
Ten days into the extension of formal legislative sessions, negotiators have not yet reached deals on bills addressing police reforms, transportation infrastructure, health care, economic development and climate change.
The House and Senate agreed to scrap their traditional July 31 deadline for finishing major legislation this year, amid the disruptions of the pandemic. The move left four bills before House-Senate conference committees that are continuing their private talks, and a fifth conference was appointed last week to iron out the details of climate change legislation.
None of the conferences had filed a report with the House or Senate clerk's offices as of 9:15 a.m. Monday, and the traditional August recess, combined with the early Sept. 1 primaries, seems to have sapped conference talks of any urgency.
The transportation infrastructure bond bill has been in conference committee the longest, since July 23, followed by the policing bill, which has been subject to talks since July 27. Gov. Charlie Baker, Senate President Karen Spilka and House Speaker Robert DeLeo had all said they wanted to see a final version of the police bill by July 31.
Another conference committee was named on July 16 to reconcile competing versions of an information technology bond bill. That panel reached an accord on July 31, and Baker signed the $1.8 billion borrowing bill on Friday.
State House News Service
Monday, August 10, 2020
Campaigns, August Recess Overshadow Conference Talks
By Katie Lannan
---
The attention on the campaign trail this week is what August is usually like in an even-numbered year, even though this is no usual year and the Legislature extended its session beyond the traditional July 31 recess date.
Legislative leaders suggested they would call lawmakers back into session this month if and when any of the conference committees negotiating policing, climate change, telehealth, economic development and transportation spending bills reached a deal.
So far, that hasn't happened. . . .
Also this past week . . . Rep. Shawn Dooley, a Norfolk Republican, used Facebook as a platform to rail against "King Charles" and what he sees as the governor's trampling of the Constitution through executive orders aimed at controlling COVID-19, namely the conditions placed on travelers visiting from places like Rhode Island.
State House News Service
Friday, August 14, 2020
Weekly Roundup - Green Means Go ... Back to School
— Excerpt —
---
The Baker administration said Monday it was weighing whether to participate in President Donald Trump's scaled back unemployment assistance program that requires states to pick up a quarter of the cost of the $400 weekly enhanced benefit for those out of work, but Gov. Charlie Baker's office said nothing about Trump accusing Democrat-run states of wanting a "bailout."
With Congressional talks hung up and the nation struggling through the COVID-19 crisis, Trump on Saturday signed executive orders dealing with protections for renters, payroll taxes, college loans and enhanced unemployment benefits that he said would "take care of, pretty much, this entire situation."
The action came after days of talks between Democrats and Republicans in Congress and at the White House over another round of pandemic relief spending broke down.
But with Beacon Hill looking to Washington for help in digging out of a deep financial hole resulting from the coronavirus pandemic, the prospects for relief seemed to take a hit....
One order extended the enhanced unemployment benefits that expired on July 31 for workers who have lost their jobs during the pandemic, but the president renewed the benefits at $400 a month, or two-thirds their original level.
States would also be required to cover 25 percent of the new benefit if they choose to participate, and the program would expire no later than Dec. 6, or when funding runs out.
Trump said the previous $600 enhanced benefit had been a "disincentive" for people to go back to work, and he suggested states dip into their allocations from the Coronavirus Relief Fund to pay their share of the benefit.
"But if they don't, they don't," Trump said. "That's going to be their problem. I don't think their people will be too happy. They have the money. So I don't think their people will be too happy. But if they don't, they don't."
Massachusetts received close to $2.5 billion from the Coronavirus Relief Fund, and through June had spent close to $944 million, according to documents provided to the News Service by the administration.
That total does not include the $202 million the administration plans to use to support school reopenings in the fall, or the $700 million in health care provider support that the administration has supplied, but expects to be covered eventually through federal sources other than the Coronavirus Relief Fund.
"The administration is reviewing the Executive Order related to unemployment benefits," said a spokesman for Labor Secretary Rosalin Acosta. The administration said the Department of Unemployment Assistance had received a memo outlining the program.
If Massachusetts were to participate, it's unclear how much it would cost. Massachusetts has had one of the highest unemployment rates in the country, and as of the last week of July had 502,471 continuing claims for unemployment assistance and 19,179 initial claims for regular UI benefits for the week.
State House News Service
Monday, August 10, 2020
Trump Orders Shake Up Debate Over Stimulus
Baker Mum as President Insists States Seeking "Bailouts"
---
Gov. Charlie Baker on Thursday voiced concern with President Trump's plan for funding a scaled-down version of the nation's enhanced unemployment benefit and said it's important for Congress to reach agreement on a fourth stimulus bill to support states and the health care system.
"There are very real issues that states and municipal governments have associated with almost everything associated with COVID, and that's no longer just a Northeast issue," Baker said during a Tuesday press conference....
Baker said he supports the idea of the federal government "doing something about an enhanced unemployment benefit" but believes "it needs to be done through a separate appropriation, not by taking money from FEMA, which is how we, the states, are planning to get reimbursed."
A $1.1 billion COVID-19 spending bill Baker signed on July 24 relies on FEMA reimbursement and other federal funding to reach an expected net state cost of zero dollars. The allocations in that bill included $350 million for personal protective equipment, $44 million for the contact tracing collaborative, and $85 million for field hospitals and shelters.
Massachusetts is now on its second temporary budget of the 2021 fiscal year, and lawmakers have yet to produce a full annual spending plan that takes into account the economic disruptions of the COVID-19 crisis. Legislative leaders have said they want a better picture of what level of aid might become available to them through another federal stimulus.
Massachusetts in July took in $4.456 billion in tax collections, approximately $2.293 billion of which came from income taxes that would have been due in fiscal 2020 if the filing deadline had not been pushed back from April to July. The remaining $2.163 billion will be recorded for fiscal 2021.
After adjusting for deferred taxes, the revenue collected for July 2020 was about $88 million more than what was collected in July 2019, according to the Department of Revenue.
State House News Service
Tuesday, August 11, 2020
Baker: Trump Jobless Benefit Plan May Create Funds Flow Woes
Guv Cites National Need for Fourth Stimulus Bill