Charlie Baker shows up to a GOP fundraising dinner and the maitre d' asks, "Governor, how many at your table?"
Baker replies, "I'm a party of one."
This may sound like the setup to a bad joke, but increasingly the governor is finding himself estranged from the mainstream leanings of his party. In a week when Republicans were rallying around their president as Democrats in the House made Donald Trump just the third president in history to be impeached, all Baker could muster was that he hoped the Senate could give Trump a "fair trial."
And Trump isn't the governor's only problem within the Republican Party.
New Hampshire Gov. Chris Sununu this week took a rhetorical blow torch to the Transportation Climate Initiative that Baker's environmental and transportation teams have spent a year working to develop. Sununu called TCI a "financial boondoggle" and a program that New Hampshire wants no part of....
So perhaps it was no surprise that when Baker was asked this week about his place in the Republican Party, he described himself as "still a big fan" of ... himself.
"I have no trouble being a Republican defined the way I want to define it," Baker told Boston Public Radio host Jim Braude.
Baker said he joined the Grand Old Party for Reagan and stayed for Weld and Cellucci. But even before then, a pre-teen Baker was smitten with another figure from the party – a White House Christmas Party to be exact. "Pat Nixon was really cool," Baker conceded, having met the former first lady when his dad worked in the Nixon administration....
The impact on gas prices is what had Sununu running for the White Mountains, and could lead other governors to follow his trail.
Theoharides noted, however, that gas prices can vary between the states by more than 17 cents for reasons that have nothing to do with governments trying to discourage fossil fuel consumption.
The TCI debate promises to rage on into the spring, and could influence the direction the House moves with respect to the new revenue Speaker Robert DeLeo wants to gin up in the new year for transportation. In a nutshell, the TCI-related gas price impacts will be layered on top of any gas tax increase proposals....
STORY OF THE WEEK: TCI forecasts a gas price increase before the gas tax debate can even happen.
State House News Service
Friday, December 20, 2019
Weekly Roundup - Pat Nixon Was Really Cool
---
Gov. Charlie Baker was against automatic gas tax increases before he was for them.
These photos are from 2014, when Tall Deval was running for governor as, believe it or not, a friend of the taxpayers.
Boy, have times changed.
Now the imperious RINO fraud is cheerleading for the TCI — the Transportation Climate Initiative — which makes the automatic gas tax hike of 2014 seem like an outpouring of pure Athenian democracy.
I mean, in 2014 the hacks at the State House at least tried to engineer their heist via a constitutional mechanism, to wit, legislation, which could then be repealed by everybody standing around that "Stop Automatic Tax Hikes" sign.
And that's exactly what happened. Even though the payroll patriots outspent the working classes 30-1, the automatic gas tax was repealed 53-47 — a much wider margin than Tall Deval enjoyed in his 40,000-vote squeaker over gubernatorial opponent Marsha Coakley.
To put it another way, five years ago Tall Deval needed us a lot more than we needed him....
California's already got this scam going. Gas prices are close to five bucks a gallon. That's Charlie Baker's dream for Massachusetts, and our nightmare.
This TCI tax is a regional scheme — the hacks are acting like the worst kind of mob, trying to screw up their courage to screw the taxpayers up and down the Eastern seaboard all at once, on the grounds that we can't stop all of them. To more fully understand the outlines of this multibillion-dollar heist, go to massfiscal.org.
It really smells. That's why Tall Deval is leading the charge.
Thank goodness New Hampshire Gov. Chris Sununu has already said no way. I asked him Wednesday night if he thought the TCI was a scam.
"Let's just say it's … scammy," Sununu said.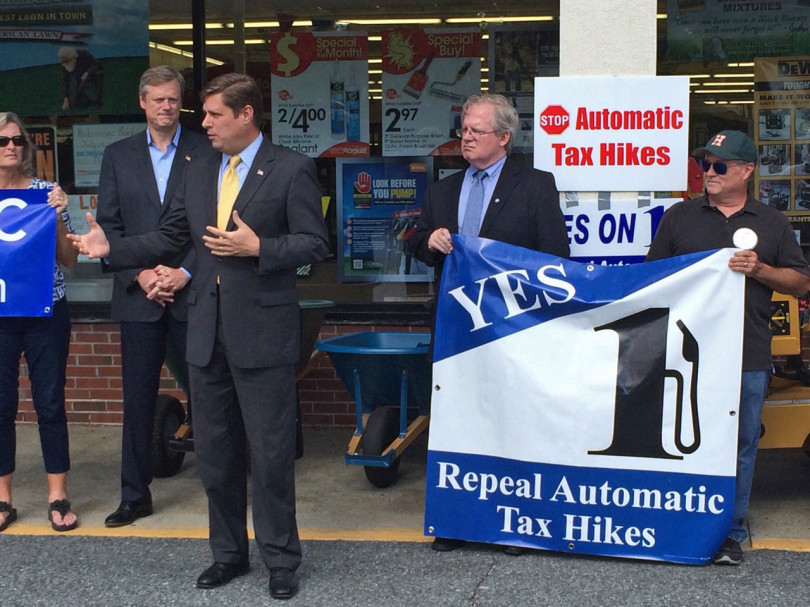 Charlie Baker, as he was running for governor, protesting the gas tax. Courtesy photos
The Boston Herald
Friday, December 20, 2019
Charlie Baker's gas tax cements his RINO legacy
By Howie Carr
---
Perhaps N.H. Gov. Chris Sununu would be willing to give a TED talk to Massachusetts lawmakers — he has much to teach them.
Sununu rejected the Transportation Climate Initiative backed by Gov. Charlie Baker, calling the bid to reduce carbon emissions and raise money for transportation projects by hiking gas prices a "financial boondoggle" and a burden on drivers.
A state official expressing concern for taxpayers — and doing something to keep prices from rising — what a concept....
A spokeswoman for Vermont Gov. Phil Scott said the state is "reviewing and analyzing the draft (memorandum of understanding) in full, so it's too early to weigh in at this point."
One can imagine Vermont residents, and those who live in the other affected states, are looking at the prospect of a 17-cent hike in gas prices and are willing to "weigh in."
Connecticut Gov. Ned Lamont noted "We're watching that and obviously this is a regional initiative that a lot of our fellow states are watching as well. That's nothing of what I've signed onto at this point. What I have signed onto is what I want to do to fix our transportation system."
In the TCI poker game, only Sununu has played his hand....
Fortunately, not all Massachusetts lawmakers are on the TCI bandwagon.
"This tax, and that's exactly what it is, is not only a detriment to pursue but an absolute wrecking ball to the financial well-being of working class citizens in Massachusetts," state Rep. Nicholas Boldyga said. "When is enough enough? The return on investment when it comes to carbon emissions reduction is dismal. Which is why that argument should be dumped just like this tax."
A Boston Herald editorial
Friday, December 20, 2019
Baker should follow Sununu's lead and nix TCI
---
Lawmakers and gas station owners are calling on Gov. Charlie Baker to get approval from the Legislature before signing onto a regional compact that would raise gas prices in an attempt to combat climate change.
"What I find ironic is if (Donald) Trump was proposing to do something like this by executive order, all the politicians would be screaming their outrage at the top of their lungs and our attorney general would have already filed a lawsuit to stop it," state Rep. Shawn Dooley, R-Norfolk, told the Herald.
Baker indicated last week that he would exercise his executive power to implement the Transportation Climate Initiative, which would charge fuel companies for the carbon emissions associated with the gas and diesel they sell and result in a price hike of 5 to 17 cents per gallon in the first year. He cited the Global Warming Solutions Act of 2008, saying it gives him the authority to sign on through an executive order.
Officials have not said how high prices might go in subsequent years and told reporters earlier this week that they did not examine how the economic impacts would change if neighboring states opted out, as New Hampshire now has done. Critics have said that forcing up gas prices in Massachusetts will send drivers and businesses to New Hampshire....
Jonathan Shaer, executive director or the New England Convenience Store and Energy Marketers Association, represents the wholesalers that would likely end up charging drivers for the fees they incur from the measure. He raised concerns about a lack of transparency and clear understanding of the cost increase, in addition to a separate gas tax that's currently being considered by the Legislature.
"What is the aggregate of that? Now we're not just talking about a TCI fee, we're talking about TCI plus a gas tax. The Legislature needs an opportunity to have that conversation and give citizens an opportunity to understand that both are being discussed," Shaer said. "That's just good policy making." ...
Joint Transportation Committee Chairman Rep. William Straus also raised concerns about the ambiguity around the costs involved in the measure.
"It's hard to know exactly what the number is going to be here and so that concerns me," Straus said. "I think any governor benefits with going above and beyond working with the Legislature even if he possesses sole authority to act at this point."
The Boston Herald
Friday, December 20, 2019
Baker under pressure to put TCI before lawmakers
---
The state's lead negotiator on a multi-state pact to lower carbon emissions from vehicles said Thursday she was not surprised New Hampshire Gov. Chris Sununu withdrew his state from talks, as he slammed the program as a "financial boondoogle."
Energy Secretary Kathleen Theoharides said Thursday after testifying before the Senate Global Warming Committee that New Hampshire's participation in the still-developing Transportation Climate Initiative was not essential to its success.
Asked if she was surprised by Sununu's reaction, Theoharides simply said, "No."
However, as the chair of the coalition of Northeast and Mid-Atlantic states pursuing the regional cap-and-invest program, Theoharides said a "critical mass" of participation from the 12 original states and District of Columbia will be necessary to make TCI successful.
"We certainly don't think of this as a financial boondoggle," Theoharides told the News Service....
Theoharides said the TCI coalition hasn't yet examined how many states it would take to make a regional pact work. Other participating jurisdictions include Connecticut, Delaware, Maine, Maryland, New Jersey, New York, Pennsylvania, Rhode Island, Vermont, Virginia and the District of Columbia.
"We haven't done specific modeling on that, and I think one of the reasons we haven't is because right now our goal is to get as many states as possible. But we certainly are looking for states to make this a meaningful market with real power," Theoharides said.
"We certainly will be talking more about what that size is as we move towards the spring," she added.
Sen. Michael Barrett, the vice chair of the Senate Committee on Global Warming and Climate Change, suggested that Massachusetts could join a market for carbon with California if the TCI coalition falls apart....
New Hampshire was one of nine states in the coalition that would have required the approval of its Legislature to join TCI in the spring when the program details are finalized.
Only in Massachusetts, Maryland and New York does the governor already have the authority to sign their states up unilaterally.
Along with New Hampshire, Maine and New York were initially considered to be "observer" states when the TCI effort began in December 2018, but Theoharides said those distinctions have blurred over time.
"All of the states are participating at the same level now, working toward a spring sign on," she said.
Barrett suggested that the three models for carbon emission reductions, peaking at 25 percent, were "quite moderate" and probably not enough to achieve his goal of net zero emissions by 2050.
Both Theoharides and Transportation Secretary Stephanie Pollack, however, said it's vital to start generating money for investments in cleaner transportation to giver drivers and alternative to their cars before using price more aggressively to change driving behaviors.
State House News Service
Friday, December 20, 2019
TCI Success Will Require "Critical Mass" of States to Join
---
Looking just beyond next week, the Legislature launches the second leg of its two-year session on New Year's Day. On that day, the income tax rate will fall from 5.05 to 5 percent, the minimum wage will rise from $12 to $12.75 and automatic voter registration is scheduled to begin through processes established at MassHealth and the Registry of Motor Vehicles.
State House News Service
Friday, December 20, 2019
Advances - Week of Dec. 22, 2019
---
Twenty years ago the Red Sox still played in the shadow of an imagined curse. The New England Patriots had been to two Super Bowls but never won. Tom Brady was a sixth-round draft pick and a fourth-string quarterback. Traffic on the Central Artery backed up above ground.
A little more than 20 years ago, 1.5 million Massachusetts voters told the state to roll back the personal income tax rate from 5.85% to 5%. Question 4 on the November 2000 statewide ballot, a citizen-driven referendum, won with 56% of the vote. It was a mandate the Legislature only partially accommodated and as years went by ignored....
Still, it's frustrating that the slow deflate of the income tax was drawn out for another 15 years. Even as the state's financial condition improved, with a vibrant economy and increased tax revenues, our elected representatives left the income tax sunset on the slow setting.
Some would argue that eliminating or reducing taxes is against the nature of government, that they only go up but never go away. It's a cynical view but one the Massachusetts Legislature reinforced time and again, year after year.
And, at this point it isn't really about the money. Most taxpayers will see only a modest benefit from finally dropping the income tax rate to 5% — perhaps enough to have a good Friday or Saturday night. The real issue is the principle of the thing. How many taxpayers voted for a 5% personal income tax rate in November 2000, never to see it actually happen, having moved away or died in the span of the human generation that passed before it actually came to be?
A Salem News Editorial
Thursday, December 19, 2019
The slow descent of the income tax
---
After two decades of waiting, Massachusetts residents will finally see that flat 5% income-tax rate they successfully voted for — too late though for some of the major tax-reduction advocates to see their work come to fruition.
"There are a lot of taxpayers who worked on that campaign who never saw the income tax reach 5%, as the voters mandated 20 years ago," Director of Citizens for Limited Taxation Chip Ford told the Boston Herald. "Finally, it's going to go back to 5% as promised. I'd say too little, too late, but that's what you get from state government."
The individual income tax rate will be reduced from 5.05% to 5% effective Jan. 1, the Baker Administration announced Friday.
That should have occurred 17 years ago....
Two years after its passage, however, lawmakers froze the income tax at 5.3% to fund budget shortfalls. Facing a voter backlash, the Democrat-controlled Legislature reluctantly created a mechanism to reduce the tax rate when the state's annual revenue increases exceeded 2.5%.
Facing a voter backlash, the Democrat-controlled Legislature reluctantly created a mechanism to reduce the tax rate when the state's annual revenue increases exceeded 2.5%.
But even then, the formula clearly reflected the government's intention to forestall any tax-rate reduction for as long as possible. It only allowed for a paltry .05% annual income-tax rate decrease when that 2.5% revenue target was reached.
It took years before the commonwealth's economy could support such revenue figures. For the first 10 years, there was no rate change. But reductions did occur in 2012, 2014, 2015 and 2016, leaving the rate at 5.10%....
We're thinking especially of Barbara Anderson, the longtime anti-tax activist who along with Ford, marshalled the effort to get this question on the state ballot. Unfortunately, Anderson died of leukemia in 2016.
It seems many lawmakers believe there's never enough money to support all their spending priorities. They'd probably point out that the $88 million that won't be picked from taxpayers' pockets in fiscal 2020 and the $185 million in fiscal 2021 represent an insignificant amount that could be better utilized for one of their pet programs.
While it's true workers will just see incremental increases in their paychecks, that 5% income-tax rate sends a message.
While taxes remain a necessary fact of life, the Taxachusetts label isn't.
A friendly business environment — not ever higher taxes — represents the best way to generate revenue.
A Lowell Sun editorial
Tuesday, December 17, 2019
Take that 'Taxachusetts'
---
Sometimes, a dream deferred can finally come true.
In 2000, Massachusetts voters overwhelmingly supported Question 4 to reduce the income tax rate from 5.95% to 5%. The Legislature stepped in and set aside the results of the ballot question. They raised the tax rate, and then allowed it to be lowered one-half a percent if a series of artificial constructs they invented were met. This happened a couple of times over the years, but now, 20 years later, that formula will finally allow the tax rate to drop to what voters voted for 20 years ago.
I wrote about my own involvement in that effort last May, when my friend Chip Faulkner of Citizens for Limited Taxation died. To put it onto the ballot, volunteers like me pester people outside post offices and supermarkets to create a ballot question to repeal the Dukakis "emergency" tax hike from 5% to 5.95%....
Not every deferred dream has to dry up and wither away; and given past performance, we will always need Citizens for Limited Taxation.
The Cape Cod Times
Thursday, December 19, 2019
For patient taxpayers, a dream deferred may still come true
By Cynthia Stead
---