The Senate on Thursday approved a nearly $50 billion state budget, after adopting more than 500 amendments over three days.
Senate President Karen Spilka said prior to the unanimous vote that she hopes House and Senate negotiators can "quickly" resolve the differences between their fiscal 2023 spending plans.
House and Senate Democrats over the years have often been unable to agree on a consensus budget by the July 1 start of the fiscal year. Failing to reach a timely agreement this year, in particular, could be consequential since legislative leaders are trying to find common ground on other major bills and formal sessions for the year, under legislative rules, end on Sunday, July 31.
During Thursday's session, Senate Minority Leader Bruce Tarr noted the budget bill, passed as state tax collections continue to crest, managed to jack up spending by more than $2 billion but still enlarges the state's significant rainy day savings account. Still, Tarr said, the bill fails to meet the state's statutory responsibility to fully fund regional school transportation....
A Senate Ways and Means spokesman said senators added more than $93 million to the budget through amendments, raising the bill's bottom line to $49.78 billion, which is in the same ballpark as the bill that cleared the House in April.
State House News Service
Thursday, May 26, 2022
Senate Passes Budget, Next Stop Conference Committee
---
The Senate unanimously approved a $49.78 billion budget for the fiscal year that starts July 1, after tacking on more than $93 million in spending over the course of three days of debate.
A conference committee could be appointed as soon as next week to hash out the Senate's differences with the House, which passed its own version of the budget in April, also in the nearly $50 billion ballpark.
Also Thursday, the Senate gave its final approval to a bill opening up Massachusetts driver's license access to undocumented immigrants. That measure heads to Gov. Baker's desk with 80 percent of senators voting in support, well above the two-thirds needed to override a veto or potentially defeat an amendment in the event Baker tosses it back to the Legislature.
The Senate returns on Tuesday morning, without a formal calendar, following the Memorial Day weekend. The big budget debate's over and there are around nine weeks left in formal sessions if legislative leadership want to push any further priorities onto the floor before the term's end.
State House News Service
Thursday, May 26, 2022
Senate Session Summary - Thursday, May 26, 2022
By Sam Doran
---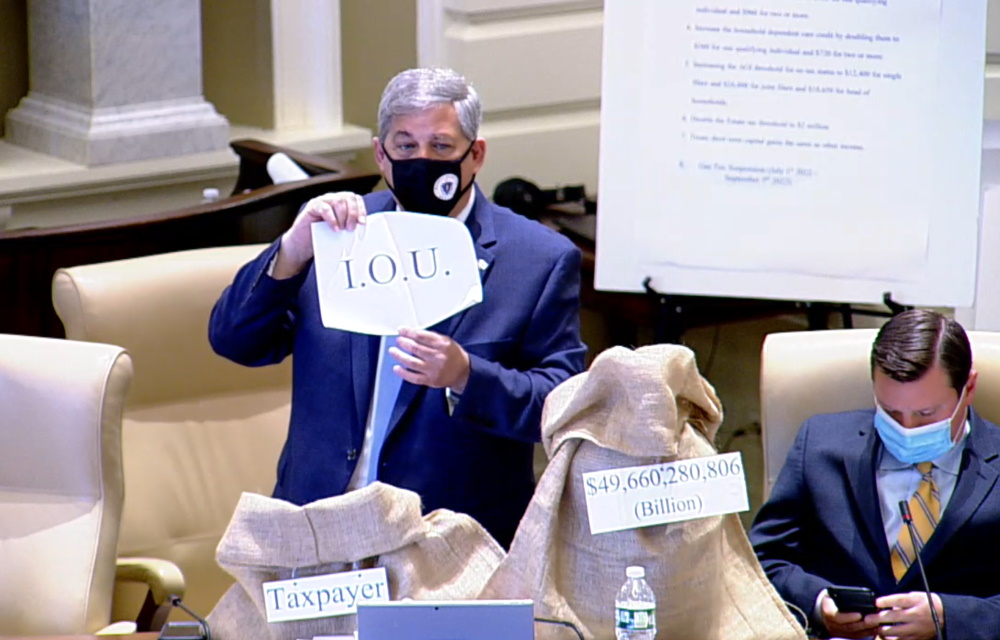 Minority Leader Bruce Tarr uses burlap moneybags to illustrate components of the Senate's nearly $50 billion budget proposal during debate Wednesday. Tarr's "taxpayer sack" was nearly empty, save for an IOU representing Democratic leadership's promise of a future debate on tax relief. [SHNS/Senate Broadcast]
When the Senate Ways and Means Committee rolled out its $49.7 billion budget for fiscal 2023 earlier this month, the bill was, in the eyes of Chairman Michael Rodrigues, "pretty light on policy."
Three days of debate and some 500 adopted amendments later, it's gotten quite a bit heavier.
As is typical for either branch, the Senate loaded its spending bill up with earmarks, to the tune of tens of millions of dollars. And senators were not afraid to add in some policy heft, beefing up their budget with what the Massachusetts Taxpayers Foundations tallied as 104 new outside sections.
Those policy pieces cover everything from protections for providers and seekers of reproductive and gender-affirming health care, to continued permission for remote municipal meetings, to the exoneration of the last woman convicted in the Salem Witch Trials whose name has not yet been cleared.
A substantial lift, sure, for the negotiators who will ultimately come together to settle the differences between the House and Senate. But, the glut of cash in the Bay State's coffers means they'll have the option of throwing money at some problems that may arise -- why haggle over House versus Senate spending priorities if the revenue's there to just fund both? ...
Minority Leader Bruce Tarr, never one to shy away from a prop, illustrated his point with a series of burlap moneybags. The biggest represented the budget's billions in spending, while a smaller one, labeled "Taxpayer," was nearly empty, save for an IOU.
Thursday evening, with debate wrapped up, Tarr ceremoniously presented Rodrigues with that Taxpayer Sack, saying he hoped the chairman would find a way to fill it up with tax breaks in the next two months.
Top Senate Democrats have said they want to tackle tax relief sometime after the budget. Since budget talks often stretch into July and formal sessions this year end on July 31, the timing question looms larger.
Tax changes have to start in the House, and leadership in that branch has also been sparse on details of what might emerge, or when.
Speaker Ronald Mariano said Thursday he's having the Revenue Committee run some numbers, and that the House will "try and put some things together" with the goal of a "more equitable dispersal of the benefits and tax benefits." ...
With lawmakers still playing their cards close to the vest on what future tax-relief efforts might look like, an official opposition campaign to a potential new tax launched on Monday. The Coalition to Stop the Tax Hike Amendment kicked off its efforts to defeat the November ballot question that would write a 4 percent surtax on income over $1 million into the state's Constitution.
While opponents warn against the potential of writing lawmakers a "blank check" with the new tax, the money it would raise is intended to go toward transportation and education needs.
State House News Service
Friday, May 27, 2022
Weekly Roundup - In The Bag
---
The state Senate approved a nearly $50 billion budget on Thursday after plowing millions of dollars in new spending into the package, but rejected a buffet of proposed tax cuts and a temporary holiday from the state's gas tax.
The spending package, which passed unanimously, calls for tapping the state's record surplus revenues to make major investments in schools, child care, workforce development and housing while boosting state aid to communities.
"This is a truly terrific budget," Senate President Karen Spilka, D-Ashland, said in remarks ahead of its passage. "From the start, this budget has been about getting money, and keeping money, in the pockets of people who keep this commonwealth moving forward." ...
While there are no wholesale tax or fee increases in the spending bill, the Senate's Democratic majority rejected a $700 million buffet of proposed tax cuts that were part of Baker's preliminary budget package filed in January.
Baker's proposal called for adjusting state income tax laws and boosting rent deductions to provide relief for low-income residents, expanding tax credits for housing and child care, and a major overhaul of the estate or "death" tax.
Senate Republicans also made another push to suspend the state's gas tax of 24 cents per gallon through Labor Day as part of the budget deliberations, but the proposed amendments were rejected by the Democratic majority, who said they would affect the state's bond rating and provide minimal relief for motorists.
Senate Minority Leader Bruce Tarr, R-Gloucester, said the state is awash with surplus revenue and can afford to provide relief for consumers who are paying higher prices for food, gas and other goods amid supply chain disruptions and record-high inflation.
"We don't know if that inflationary number will change but we know it's going to have a significant detrimental effect," Tarr said in remarks Wednesday. "We have an obligation to take these reasonable actions — a fraction of one month of excess revenue — to respond and help them weather the storm and gain a little bit of traction, survive and prosper."
Ahead of this week's budget debate, Spilka said she wants to pursue a tax relief package before the end of the session but has not provided additional details.
On Wednesday, Senate Ways & Means Chairman Michael Rodrigues defended the Democratic majority's rejection of the tax cuts and pointed out that the Senate's spending plan includes funding to help taxpayers struggling with higher costs.
"This body has not stood by and done nothing. We have done enormous things to help," Rodrigues said in remarks during the budget debate. "Just the fact that we're passing close to a $50 billion budget with money for services that assist every resident in education, child care, mental health, health care."
Rodrigues argued that Baker's tax cuts are skewed toward the state's wealthiest and said the Senate intends to hold a "comprehensive tax debate to ensure that those residents that deserve it most will get the largest share of tax breaks." ...
House Republicans also sought to amend the spending package to include parts of Baker's tax cuts plan and a gas tax holiday, but the proposals were rejected.
During closing remarks in the Senate budget debate, Tarr walked across the chamber and handed Rodrigues a burlap "taxpayer sack" with proposals to cut taxes.
"I'm hoping, in giving this to you, that within the next 40 days you will find a way to fill it with tax relief for the citizens of the commonwealth," Tarr said.
The Salem News
Friday, May 27, 2022
Senate approves nearly $50B state budget
---
House Speaker Ronald Mariano said the House is working to assemble a tax relief package by the end of July and that he has a willing dance partner in the Senate, but he also indicated Thursday that relief is not where the tax talk is likely to end.
"We're gonna try and put some things together. There's still two or three things that I'd like to do that I'm having the numbers run through Revenue [Committee]. I want a more equitable dispersal of the benefits and tax benefits," Mariano told reporters Thursday after addressing the Greater Boston Chamber of Commerce.
The speaker, who has said for months that he is open to the idea of tax relief without having advanced Gov. Charlie Baker's proposals or outlined his own, said the idea of changing the threshold at which the estate tax kicks in "was something that jumped out at us right away," but otherwise did not get into the details of what a House relief package might look like.
Senate President Karen Spilka has also said that she wants to get a tax relief bill through her chamber and said she will turn her attention to the issue after the Senate budget debate is over. Mariano said his conversations with Spilka give him "the impression that she does want to do something."
But while tax relief may dominate the tax-related talks between now and the end of formal lawmaking in July, Mariano said in his remarks to business groups Thursday that "it's absolutely critical for the Legislature to continue to look for new, smart ways to generate more revenue for the commonwealth." ...
Asked by a reporter if he has given any consideration to a tax on services, the speaker said he had not "per se."
"But it's an interesting avenue to look at though and I will take a look at that. I don't know exactly how you would structure that and how we would identify these services, but there may be something there," Mariano said.
State House News Service
Thursday, May 26, 2022
Speaker Exploring New Revenues, On Top Of Tax Relief
---
Opponents of the proposed surtax on household income over $1 million launched their campaign Monday morning to defeat the Constitutional amendment on November's ballot, focusing on the potential impact on small businesses and retirees as well as the possibility that the Legislature treats the estimated $1.3 billion in annual surtax revenue as a "blank check."
The Coalition to Stop the Tax Hike Amendment, a group of small businesses, chambers of commerce, some of the state's most influential trade organizations, retirees and concerned citizens, formally kicked off its anti-surtax efforts and said its members have "united to communicate to voters the damage this massive tax increase will have on our state's economy."
"Proponents of the amendment claim that it will raise taxes only on Massachusetts' highest earners, but in practice, it will harm hardworking families across the state," Dan Cence, a veteran lobbyist and political strategist and spokesperson for the Coalition to Stop the Tax Hike Amendment, said. "Massachusetts already has a budget surplus of billions of dollars. We must work together to strengthen our economy and ensure Massachusetts remains a place where small business owners can thrive." ...
"The Tax Hike Amendment is not just a tax on people making a million dollars a year. It will also tax the nest eggs of longtime homeowners and small business owners whose retirement depends on their investments," the coalition wrote on the fact sheets. "That is because, unlike federal taxes, this amendment would treat one-time gains from selling a home or business as regular income, pushing many retirees and small business owners into the new higher tax bracket, and nearly doubling their taxes." ...
In its launch Monday, the coalition also called attention to the fact that while the amendment itself would require the surtax revenue to be spent on transportation and education, it would not necessarily lead to actual increases in spending on transportation and education because future Legislatures could stop appropriating money from other revenue sources to those areas.
"As the former head of the MBTA, I know there is zero guarantee that the money raised from this amendment will increase education and transportation spending. Due to a loophole in the amendment, 'subject to appropriation' means legislators can take this money and use it for their own pet projects -- it means giving Beacon Hill a blank check with no accountability," Brian Shortsleeve, a former general manager at the T who has since founded M33 Growth, said.
Lisa Alcock, a former public school teacher, echoed the same sentiment in her comments on the coalition's website. She said the amendment is "deceptive" and that "the politicians who put this on the ballot are giving themselves a blank check to redirect existing funding for education and transportation to their own pet projects, with no accountability."
State House News Service
Monday, May 23, 2022
Surtax Opponents Warn Against Beacon Hill "Blank Check"
Opposition Campaign Forms, Accelerating Debate
---
A newly formed coalition of business groups launched a campaign to defeat the proposed millionaires' tax, foreshadowing what could be a costly battle over the proposed constitutional amendment ahead of the November elections.
The Coalition to Stop the Tax Hike Amendment, which includes business groups, chambers of commerce, hoteliers, developers and "concerned citizens," argues that the proposed 4% surtax on the state's top earners would be "one of the state's highest income tax increases in history," affecting tens of thousands of residents.
"Now, more than ever, is not the right time to raise income taxes," Dan Cence, the coalition's spokesman, said in a statement. "Proponents of the amendment claim that it will raise taxes only on Massachusetts' highest earners, but in practice, it will harm hardworking families across the state." ...
"There is nothing fair about subjecting small businesses who serve as the backbone of the Massachusetts economy to a constitutionally locked-in income tax increase," said Chris Carlozzi, state director of the Massachusetts chapter of the National Federation of Independent Business, a member of the coalition.
"Not only does the income tax hike reduce a pass-through small business' ability to reinvest in their operation and their employees, but it also taxes the owner at a higher rate when they seek to sell their business and retire," Carlozzi said.
Members of the coalition, which include Associated Industries of Massachusetts, the Massachusetts Seafood Collaborative, Retailers Association of Massachusetts, and the Pioneer Institute, note that the state's voters have several times rejected proposals to replace the state's flat personal income tax with a graduated rate....
The Raise Up Massachusetts coalition, a coalition of labor unions, community and faith groups behind the referendum, dismissed the newly formed opposition group and accused them of distorting details of the proposed amendment.
"The super-rich got richer during the pandemic, and a small number of them will say anything to keep from paying their fair share to build a better future for Massachusetts families," said Steve Crawford, the coalition's spokesman....
"The Fair Share Amendment is simple: If you earn less than a million dollars in a year you won't pay a penny more. Only the very rich will pay a little extra," he added. "And the money raised is constitutionally required to be spent on making our kids' schools better and fixing our roads, bridges, and transit."
The referendum faces a challenge from a lawsuit filed by Massachusetts High Technology Council and other opponents who argue that backers of the surtax may try to mislead voters by using an "inaccurate" summary of the referendum.
They say despite claims the money will be used for education and transportation, lawmakers could divert the funds for other purposes and voters should know that before they go to the polls.
The outcome of the legal challenge is pending a ruling by the state Supreme Judicial Court, which heard arguments in the case about three weeks ago.
The Salem News
Tuesday, May 24, 2022
Coalition forms to oppose millionaires' tax
---
Gov. Charlie Baker on Friday vetoed a bill making immigrants without legal status eligible to seek state-issued driver's licenses, saying the Registry of Motor Vehicles, an agency that he oversees, doesn't have the ability to verify the identities of potential applicants.
Following years of advocacy for the bill, House and Senate Democrats on Thursday enacted the legislation, which supporters say will make the roads safer by granting access to licenses for many undocumented immigrants who are already living throughout the state.
Republican opposition to the bill was steady throughout its journey through the Legislature, and officeholders and candidates at the GOP convention last weekend in Springfield sporadically and pointedly expressed their opposition to the proposal.
In his veto message, Baker said the legislation "significantly increases the risk that noncitizens will be registered to vote," a possibility that bill supporters have refuted. The governor said the bill "restricts the Registry's ability to share citizenship information with those entities responsible for ensuring that only citizens register for and vote in our elections."
The bill cleared both branches with more than enough support to override Baker's veto.
State House News Service
Friday, May 27, 2022
Baker Vetoes Immigrant License Access Bill
Voting, Verification Concerns Outlined In Veto Message
---
One day after state legislators approved a bill to allow undocumented immigrants to get driver's licenses in Massachusetts, Governor Charlie Baker vetoed the measure, saying it poses a risk to election security.
In a letter rejecting the legislation late Friday afternoon, Baker said the bill requires the Registry of Motor Vehicles "to issue state credentials to people without the ability to verify their identity" and "increases the risk that noncitizens will be registered to vote."
He also expressed concern that the identification wouldn't distinguish an undocumented person from a documented one.
"Consequently, a standard Massachusetts driver's license will no longer confirm that a person is who they say they are," Baker wrote.
The House and the Senate voted overwhelmingly to approve the bill Thursday, supporting it 118-36 and 32-8, respectively.
Those margins were large enough to override Baker's veto. A two-thirds vote is required in each branch to override the governor's veto and make the bill law.
A spokesperson for Senate President Karen E. Spilka said the chamber will override, but did not provide a date. The House will override the veto during its next formal session on June 8, according to a spokeswoman for House Speaker Ronald J. Mariano.
In a tweet, Spilka called Baker's veto "misguided" and said her chamber looks forward to overriding it.
The Boston Globe
Friday, May 27, 2022
Governor Baker vetoes bill to give driver's licenses to undocumented residents
---
A big winner in last weekend's Republican convention was a Democrat.
That would be Attorney General Maura Healey, the two-term progressive who is running for governor....
So, if Diehl wins the GOP primary over fist time candidate Doughty, as expected, he will face a well-funded Healey, who may not even face a primary challenge.
Healey, who has scored a series of Democrat and progressive endorsements — but has not heard from Joe Biden — has raised close to $5 million in campaign funds.
This compares to the less than $400,000 that Diehl has raised.
Doughty, a successful manufacturer, has put $500,000 of his own fortune — and perhaps more to come — into his campaign, which makes one wonder what his six children and four grandchildren are thinking.
Still, Healey has easily raised more money than the two Republicans combined, and you could throw in Chang-Diaz as well, and the three do not come close to equaling the cash Healey has on hand....
If the convention vote is any indication, Diehl should beat Doughty in the primary. In 2018 Diehl beat out two other Republicans for the U.S. Senate nomination only to lose to Democrat Elizabeth Warren. So he is better known.
But that is only the beginning. There are only 459,663 registered Republicans in Massachusetts, compared to 1,494,990 registered Democrats. Diehl could win every Republican primary vote and he would still be well behind Healey, both in votes and in money.
However, there are 2,717,293 unenrolled voters, or Independents, who normally do not vote in September primaries. But they do vote in November.
Diehl is a longshot, for sure, even if he wins the primary. But we live in strange, angry and anything-can-happen times.
Diehl needs to nationalize the election. With Trump at his back, needs to make the election about Joe Biden, who Healey supports, even as Biden has brought the country to its knees.
Gas prices? Food costs? Crime? Drugs? Homelessness? Illegal immigration? No baby formula? Empty shelves? Hate? Divisiveness? Afghanistan? Joe Biden has failed on every front.
Democrat election officials are now treating Biden as though he had monkeypox.
Yes, Biden whipped Trump in Massachusetts in 2020 when 2,382, 202 people voted for him. He would not get that vote today. Trump back then got 1,167,202 votes. Today he would get those same votes and more.
Biden sold out his supporters to a bunch or radicals. Now his disenchanted supporters — Democrats and Independents — are deserting him. These are the people Diehl must go after if he has any chance at all. They are out there; you just have to get them.
The Boston Herald
Wednesday, May 25, 2022
Race for governor must be about gas, crime and no baby formula
By Peter Lucas
---
The perfect Donald Trump storm is brewing in Massachusetts — an unabashed conservative taking on the Democratic power structure, a liberal candidate and the left-wing media.
So it's no surprise Trump is considering making an appearance for gubernatorial candidate Geoff Diehl's campaign.
A Trump rally would take the Bay State gubernatorial race national — which is just what Diehl wants — and shine a spotlight on the former state rep and failed U.S. Senate candidate.
It would also bring in cash, notoriety and of course plenty of criticism in the establishment media and in the Democratic party.
Democratic front-runner Attorney General Maura Healey is the perfect Trump foil — she has sued the former president dozens of times and at times seemed obsessed by him.
Healey has tried to hang the Trump label on Diehl and he seems perfectly willing to embrace it.
Trump and Diehl would also be running against the state Democratic Party establishment, including the super-liberal Legislature, which has resisted passing tax cuts despite a huge state surplus and just passed a bill allowing non-citizen immigrants to get a drivers' license....
The question for Diehl is can he stitch together enough of a coalition of staunch conservatives, veterans, law enforcement, anti-vaxers and others to win the primary and make it a contest against Healey or the other Democrat, Sonia Chang-Diaz?
Trump may be able to help fire up conservatives — more than a million of them voted for him in 2020 in Massachusetts — but he'll also energize Democrats, too.
Whether the former president makes an actual visit to the Bay State is in question — he's promised to do "something" for Diehl but he may not want to invest too much time in a race he's likely to lose.
The Boston Herald
Saturday, May 28, 2022
Trump perfect political storm brewing in Massachusetts
By Joe Battenfeld