The state Senate, not to be outdone by their colleagues in the House, unveiled a budget just slightly closer to $50 billion on Tuesday, which senators said focused on fiscal matters and was light on policy.
"I'm happy to say the commonwealth remains in a strong fiscal position at this time," Senate President Karen Spilka said as the Ways and Means Committee unveiled their spending plan.
Coming in at a total of $49.68 billion, the Senate's fiscal plan for 2023 tops Gov. Charlie Baker's January proposal by over $1 billion and last year's spending by $2 billion....
Senators have until next week to submit amendments and Rodrigues said he hopes a vote to approve the budget will occur the Thursday after debate begins on May 24.
The Boston Herald
Tuesday, May 10, 2022
Senate budget approaches $50 billion
---
Gov. Charlie Baker's tax cuts aren't necessarily dead in the Senate, but the Ways and Means Committee on Tuesday revealed a budget that ignored them.
"We haven't had serious discussions about tax changes," Chairman Michael Rodrigues said. "We'll have a holistic discussion and debate on that in the future." ...
Baker's January budget was filed alongside a tax cut proposal his administration expects would cost about $700 million.
The Legislature hasn't let the plan leave committee, but an April tax revenue report showing a $2 billion tax surplus had Senate President Karen Spilka suddenly calling on members to pursue tax relief this legislative session, which ends July 31.
"While the details remain to be worked out, I believe we can safely balance targeted spending investments to a number of crucial areas, such as housing, childcare and higher education, with tax relief for individuals and families who are feeling the effects of inflation and continued economic disruption," Spilka said in a statement following the revenue report.
Tuesday's budget could have been a good place to start the tax relief process, but Rodrigues said his committee didn't consider the governor's plan.
The Boston Herald
Tuesday, May 10, 2022
Senate passes on tax relief, may consider before session end
---
Senate leaders on Tuesday rolled out a $49.68 billion state budget proposal for the fiscal year that begins in July, touting investments they said would help families living in deep poverty and share the state's influx of cash with cities and towns.
The Senate Ways and Means Committee's fiscal 2023 budget clocks in below the $49.73 billion version the House passed last month after adding millions in spending through the amendment process. It represents a $2.07 billion increase over this fiscal year's budget, and proposes to spend $1.45 billion more than the budget Gov. Charlie Baker filed in January.
The committee approved the bill on a voice vote during a virtual executive session Tuesday afternoon, with Minority Leader Bruce Tarr reserving his rights and not taking a stance for or against the budget. Tarr said his lack of a vote was "not an indication of disapproval" but that he was still wading through the document to understand its nuances.
The Senate's bill would boost the balance of the state's stabilization fund to $6.74 billion by the end of fiscal 2023, above the $6.55 billion envisioned in the House's plan.
Senate Ways and Means Chairman Michael Rodrigues said one of his goals when he stepped into the helm of the budget-writing committee in 2019 was to ensure the rainy day fund's balance "rises to a point that will sustain us throughout the next recession." ...
Like the House, the Senate Ways and Means Committee did not pursue Baker's nearly $700 million tax relief package inside its budget.
Senate President Karen Spilka said last week that she had directed Senate leaders to work on a tax relief package for this session, and that she looked forward to working with the House to explore that "after the conclusion of the Senate budget."
Spilka's comments came after the state in April took in more than $2 billion above what was expected in revenue collections for that month alone, bolstering what is on track to be a major surplus for fiscal 2022.
State House News Service
Tuesday, May 10, 2022
Senate Dems Double Planned Boost To Local Aid Pot
$49.7 Billion Budget Envisions $6.74 Bil Rainy Day Fund
---
The Senate's three Republicans plan to propose adding "targeted tax relief" measures into next year's budget, Minority Leader Bruce Tarr said after top Democrats unveiled a $49.7 billion spending plan Tuesday.
The Senate plans to debate its fiscal year 2023 budget starting May 23. Like the spending bill the House passed in March, it does not include any broad-based tax hikes or the nearly $700 million in tax breaks that Gov. Charlie Baker proposed alongside his budget recommendations.
Tarr, a Gloucester Republican, serves on the Ways and Means Committee but reserved his rights when the committee voted to advance the bill, meaning he did not stake out a position for or against it. He said he wanted more time to wade through the bill's details....
Senate President Karen Spilka has said she wants to pursue some sort of tax relief after the late May budget debate.
Asked Tuesday if the Senate would consider revenue-related amendments or if senators will be asked to hold their ideas for the later discussion, Ways and Means Chairman Sen. Michael Rodrigues said, "We will consider every and any amendment that a senator files, but at this point in time, we're going to stick with the same consensus revenue number as the House and the governor used to compile the FY '23 budget."
State House News Service
Tuesday, May 10, 2022
Senate GOP Plans Tax Relief Budget Push
---
Massachusetts Senate leaders on Tuesday released a $50 billion budget plan that pours hundreds of millions of more state dollars into child care but, like their House counterparts, included no proposed tax breaks or cuts. Amid surging inflation, one top senator said his colleagues have not yet had "serious discussions" about the contours of a potential package.
Senate President Karen E. Spilka last week called for the Senate to pursue a tax relief bill following its budget debate, indicating any plan, should it emerge, would likely not surface until at least June. But the prospect of one continues to hover over Beacon Hill's annual budget, a version of which the House passed last month and typically isn't finalized until after the next fiscal year begins on July 1.
Senator Michael J. Rodrigues, the chamber's budget chief, told reporters Tuesday that the Senate would focus any proposal on putting "money back into the pockets of our working families." Still, the Westport Democrat gave no indication how closely a proposal could hew to the more than $700 million in tax breaks Governor Charlie Baker has sought amid both record state revenues and 40-year highs in inflation....
In the wake of a leaked Supreme Court draft opinion that indicated the court is poised to overturn Roe v. Wade, the Senate budget also creates a new line item to support abortion services with $2 million in new funding. The House had set aside $500,000 in its plan.
The Senate is expected to debate and add to its budget plan in two weeks, when its bottom line will likely grow further. The version released Tuesday did not include several policy proposals the House had sought, including one requiring all jails and prisons make phone calls free for prisoners and their families — something only one other state currently mandates — or another dedicating $110 million to extend a free school meals initiative currently covered by an expiring federal program.
But it doesn't mean those provisions will not ultimately survive. The state is awash in money, with tax revenues in April alone surging past predictions by more than $2 billion, potentially giving lawmakers flexibility to adopt the chambers' different priorities, should they opt to, instead of having to choose some Senate and some House favorites.
Rodrigues, who will likely lead the chamber's budget negotiations with the House, said he, too, has "no objection" to those House proposals, but rather said he sought to limit the number of policy changes his office tucked into the spending plan.
The Boston Globe
Tuesday, May 10, 2022
Mass. Senate leaders unveil $50 billion budget;
tax break talks in 'near future'
By Matt Stout
---
Massachusetts budget writers are planning to push the balance of the state's rainy day fund well beyond the rule of thumb that says a state should keep 10 percent of budgeted funds in reserve, part of a trend that Pew analysts have seen across the country since the start of the pandemic.
There was $4.63 billion in the state's stabilization fund at the end of fiscal year 2021 and that balance is expected to grow to between $5.76 billion and $5.89 billion by the end of the current fiscal 2022 budget year. The House budget for fiscal 2023 would see the state's savings account rise to $6.55 billion while the Senate's plan would boost the fund up to $6.74 billion.
In either case, Massachusetts would have more than 13 percent of annual budget spending stashed away in case of economic calamity.
While there is no one-size-fits-all rule for how much a state should hold in reserve, 10 percent of budgeted spending has long been considered an ideal target.
Before the pandemic, Massachusetts was short of that target. At the end of fiscal 2020, the stabilization fund balance of $3.5 billion was only 8 percent of that year's $43.321 billion budget....
The alternatives to socking so much money away include spending it to address unmet needs or adopting tax relief or incentives to help Massachusetts residents or make the state more competitive with other states.
State House News Service
Wednesday, May 11, 2022
Mass. Not Alone In Bulking Up Its Savings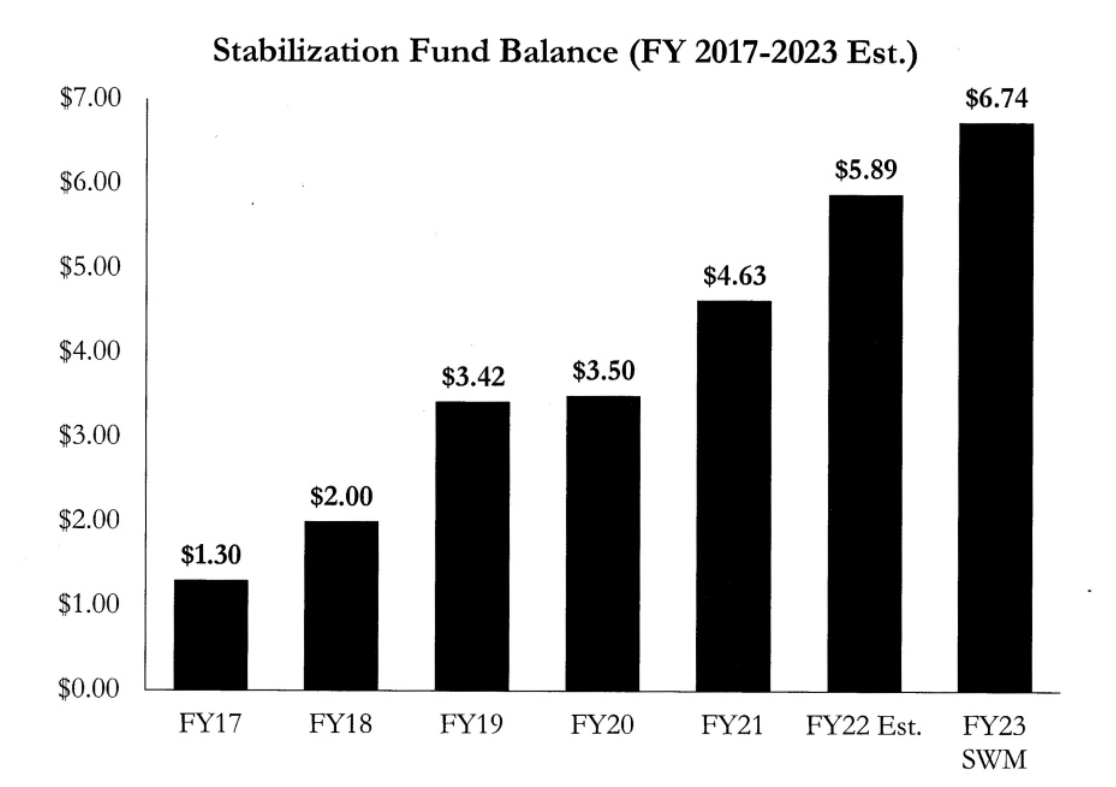 State House News Service Graph
---
If you're waiting for Democrats in the Legislature to send a tax cut to Gov. Charlie Baker, you're going to have to wait a little longer.
Like eight months.
That's when the lame duck Baker will be gone and the new governor — most likely a Democrat — will take over and get credit for the accomplishments.
Sound petty and political?
Of course. But that's how the Legislature has always operated.
Baker — to his credit — has been aggressively pushing his agenda for the last few months despite the fact that he'll soon be relegated to some high-paying job in the private sector.
But it's clear the Democratic-led Legislature wants nothing to do with giving Baker — who is essentially a Democrat in all but name — any parting gifts on the way out the door.
Instead, Baker is going out presiding over steep inflation and sky-high gas prices, despite the fact the Legislature is holding onto billions of dollars in federal COVID relief and a massive budget surplus that could be helping people pay bills right now....
It's self-imposed gridlock....
"We're still in May, but it looks like we're going to have a very large surplus for the close of the year. That certainly gives us an opportunity to not have to be completely in a rush to spend all the ARPA money," House Ways and Means Chairman Aaron Michlewitz told State House News Service.
As far as a tax cut goes, don't hold your breath for lawmakers to pass what Baker has proposed or anything like it. A gas tax cut like Republicans have proposed? Ha. Good one.
"All options are going to be considered," said Michlewitz, who may or may not have been laughing when he uttered that....
It's a perfect example of why the Massachusetts Legislature has too much power and the governor has to kowtow to them. Speaker of the House Ronald Mariano has much more power than Baker. He controls all his Democratic House members who do what they're told.
And the Republican governor sits waiting and waiting for action. It's something he's gotten good at.
The Boston Herald
Saturday, May 14, 2022
Lame duck Charlie Baker waits for petty Legislature to act
By Joe Battenfeld
---
Charlie Baker won't be giving up the corner office until early next year, but it takes two to tango and the governor's lawmaking dance partners in the Legislature are going to put a lid on major work in less than three months. So what's his top priority?
"I don't really think I have a top priority here. I have a lot of priorities," Baker told WBUR's "Radio Boston" on Thursday.
The chaotic dash to the end of Baker's first legislative session, in 2016, featured what the governor dubbed the "Big Six" bills. This year's sprint to July 31, Baker's last as governor, might come closer to fitting the "Baker's Dozen" label. (Not to be confused with 2010 candidate Baker's reform proposals.)
His $3.5 billion economic development bill, his $9.7 billion infrastructure package meant to maximize the impact of significant federal funding, and a tax cut package were the few pieces of legislation that Baker mentioned specifically on WBUR, but there's plenty more that could hit his desk in the coming months....
Oh, and there will be all the fun associated with the annual state budget, which is supposed to be done by June 30 but has lately lingered into July.
Senate Democrats unfurled their spending plan for fiscal year 2023 this week, seeking to double the increase in local aid and further pump up the state's rainy day fund while tax collections are surging. The $49.68 billion state budget proposal is likely to swell as senators work through the 1,178 amendments filed for consideration when debate starts on May 24.
Democrats in both branches are keeping those tax cuts that Baker wants to sign into law on the back burner during budget season, but expect the Senate's "Minority Crescent" to make another push to include taxpayer relief in the annual spending bill.
Another group this week launched its own tax policy effort: the ballot campaign to convince voters to impose a new 4 percent surtax on households that earn more than $1 million a year. The surtax is projected to raise about $1.3 billion a year, which the Constitutional amendment calls for spending on education and transportation....
The Department of Transportation raked in $306.5 million from roadway tolls through the first three quarters of fiscal year 222, almost $70 million more than was collected during the same period a year earlier. MassDOT officials now expect to bring in about 95 percent as much toll revenue this year as they did in the last year before the pandemic upended driving habits.
State House News Service
Friday, May 13, 2022
Weekly Roundup - Baker's Last Legislative Laundry List
---
Come November, Republicans in Massachusetts are at risk of being swept in statewide races, including the contest for governor, and seeing their minority ranks in the Legislature shrink even further.
With that backdrop, party members will spend next week gearing up for their election-year nominating convention in Springfield and testing out messages they hope will resonate with voters. Only two of the statewide races that will feature at the convention have multiple Republican candidates: the contest for governor, which involves former Rep. Geoff Diehl and businessman Chris Doughty, and for lieutenant governor, where a pair of former reps, Leah Cole Allen and Kate Campanale, will face off.
The other hopefuls -- attorney general candidate Jay McMahon, secretary of state candidate Rayla Campbell, and auditor candidate Anthony Amore -- are all positioned as presumptive Republican nominees.
GOP Gov. Charlie Baker and Lt. Gov. Karyn Polito are calling it quits this year, and Democrats are feeling good about retaking the governor's office....
In a WBUR radio interview Thursday, Baker took an apolitical approach when asked about the future of his party. Instead of talking up Republicans, Baker, without mentioning any party, said he would support candidates he believes in and urged a place at policymaking tables in Massachusetts and nationwide for "moderates." ...
Back on Beacon Hill, top Democrats appear in no rush to wrap up work on multiple bills they have already passed in some form or named as priorities. Most of the major pieces on the Legislature's board for the final two and a half months of formal sessions, including tax breaks and a pair of multibillion-dollar bills targeting infrastructure and economic development, did not move at all over the past week. As Speaker Ronald Mariano put it in February: "There's 'legislative' quickly and then there's 'press' quickly."
Something is brewing in the House, which plans to meet in back-to-back formal sessions on Wednesday and Thursday, but Mariano's office did not make clear by the end of the day Friday what bills it would bring forward. Senators will have a light workload next week, allowing the Ways and Means Committee and Senate leaders to work through the 1,178 amendments filed to the chamber's $49.68 billion fiscal 2023 budget bill ahead of the start of debate on May 24.
State House News Service
Friday, May 13, 2022
Advances - Week of May 15, 2022
---
Massachusetts ranked among the worst states in the country on property tax competitiveness, according to an assessment released Tuesday by a group that favors tax policies that it says will spur economic growth.
The new map released by the nonprofit Tax Foundation ranks states on the property tax, which is one component of the group's 2022 State Business Tax Climate Index. The property tax component evaluates state and local taxes on real and personal property, net worth, and asset transfers.
"The states with the best scores on the property tax component are Indiana, New Mexico, Idaho, Delaware, Nevada, and Ohio," the foundation said. "States with the worst scores on this component are Connecticut, Vermont, Illinois, New York, New Hampshire, Massachusetts, New Jersey, plus the District of Columbia."
Along with income and sales taxes, property taxes account for a big share of government tax revenue in Massachusetts and growth in property taxes is limited by a ballot law approved in 1980.
State House News Service
Tuesday, May 10, 2022
Tax Foundation: Mass. Among "Worst States" For Property Taxes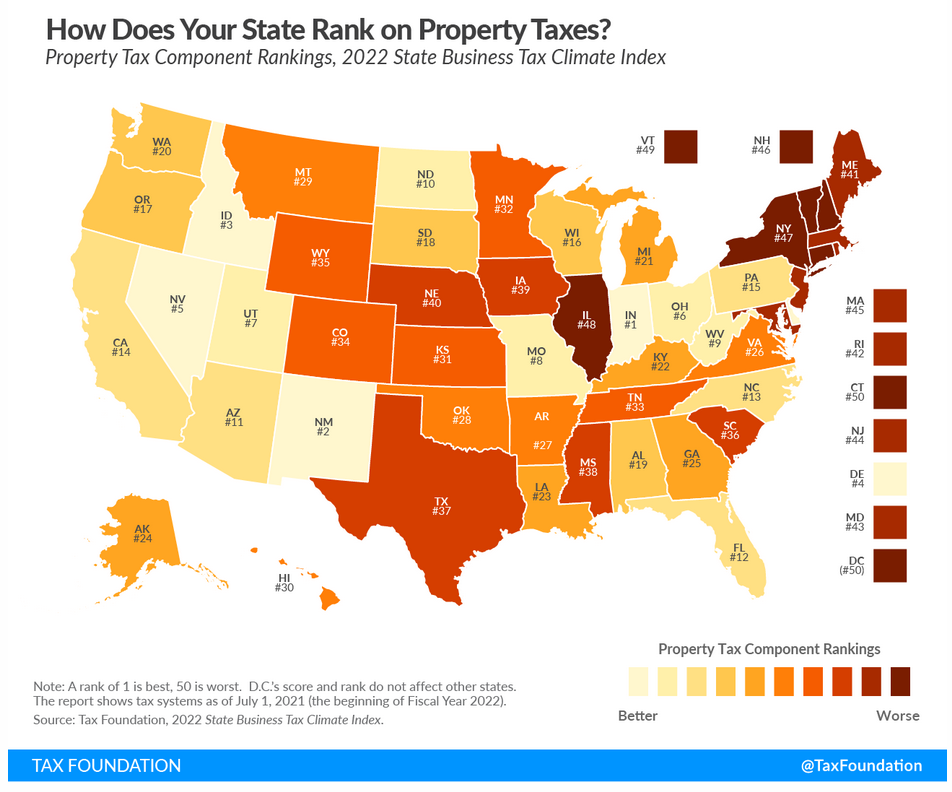 ---
Speaker after speaker told a joint legislative committee considering an economic development proposal which would also grab billions in federal funding the same thing Monday morning: the bill needs to pass and it must pass now.
"Right now we have the ability to create the building blocks of success," Brockton Mayor Robert Sullivan told the committee. "We need to make sure that the money is spent wisely, and that we get the biggest bang for the buck. That's what my nana used to say."
Under consideration is Gov. Charlie Baker's Future Opportunities for Resiliency, Workforce, and Revitalized Downtowns Act, or FORWARD, a $3.5 billion investment plan he says the hundreds of cities and towns across the commonwealth need to compete in the future and in a world where the nature of where people work has changed entirely.
Time, the Governor and nearly every other speaker before the Joint Committee on Economic Development and Emerging Technologies said, is not on anyone's side.
"If we don't get those dollars into the hands of cities and towns across the state – now so that they can begin the process associated with planning, designing and reimagining and jump-starting their local economies and their downtowns – we'll continue to see empty storefronts and quiet main streets for years to come," Gov. Charlie Baker said.
That's not the only problem.
A huge portion of that $3.5 billion would be funded by $2.3 billion from the American Rescue Plan Act, with the balance covered by $1.2 billion in capital bond authorizations.
ARPA funds must be committed by states by the end of 2024 and spent by the end of 2026. The law prioritizes investing in projects that are defined and narrow in scope so they can be completed on time.
The Boston Herald
Monday, May 9, 2022
Charlie Baker's $3.5 billion development plan moves forward
---
Reproductive health funding that state lawmakers are proposing in next year's state budget is a "good place to start," according to Gov. Charlie Baker, who said Thursday that he has talked with lawmakers about how to support women in other states if the Supreme Court overturns Roe v. Wade....
On Thursday, Baker said he had "talked to colleagues of mine in the Legislature about what, if anything, we need to do to be able to support people who are seeking those kinds of services and can't get them where they live."
The budget the House passed in April includes $500,000 toward "improving reproductive health care access, infrastructure and security," including grants to three abortion funds. Senate Democrats this week rolled out a $49.7 billion spending plan that bumps that amount to $2 million and creates a dedicated line item for it.
"And I think that's a good place to start but we need to see a decision before we decide what else we might be able to help with," Baker said of two funding proposals. "But I think this is something that should be a high priority for us."
State House News Service
Thursday, May 12, 2022
Baker, Lawmakers In Talks About Abortion Action
Aid To People Arriving From Out Of State Under Discussion