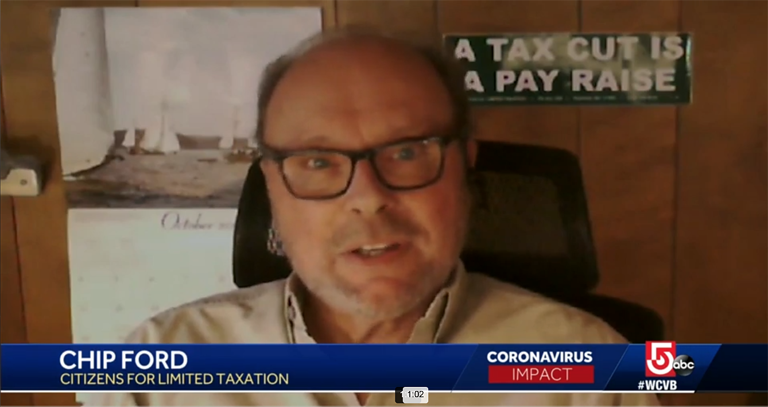 WCVB TV-5
Monday, October 19, 2020
NH Gov. Chris Sununu suing Massachusetts over taxation of remote workers during pandemic
---
Keller at Large on MASSterList
Thursday, October 22, 2020
Who Needs Dissent?
In the modern-day history of sweeping Massachusetts policy changes being decided by statewide ballot questions, 2020 is a down year, to say the least.
Access to mechanical info from cars? Ranked-choice voting? A big deal to those involved, backed by big money. But they're small beer compared with past initiative petitions on broad-based tax issues, political reform and education.
On the 40th anniversary of the petition that rocked our world, the Proposition 2½ property-tax reform, we wondered: whatever happened to the role of high-stakes ballot questions in shaping important policy here?
"One of the things that happened is it got so difficult to do grassroots petitions," says Chip Ford, executive director of Citizens for Limited Taxation and Government, longtime advocates of the ballot question process. "We used to do it all volunteer. Now you have to have a large fortune to do a petition drive."
And even if you pull together the signatures and win your case on election day, "they're going to beat you in the end one way or another," says Ford, citing multiple examples of successful petitions (term limits, rolling back the income tax) that were snuffed out by the Legislature or the courts. "It's not even worth trying anymore."
That's quite the admission coming from the little engine that could. And it underscores the wasting away of significant dissent in Massachusetts politics. We're not just a one-party state where the quote "Republican" governor is more popular among Democrats than Republicans, but also a one-governing-philosophy state, where the concepts of smaller government and staunch resistance to new taxes are headed for fringe status.
Gov. Charlie Baker still promises a veto of any broad-based tax hikes. But if the Legislature should forge ahead with one to help plug the pandemic deficit chasm, does anyone believe Baker's veto would be more than a wink and a nod, or that he would lift a finger to repeal it or punish pols who supported it?
For better or worse, Baker is all in on big-ticket activist government, and the voters love him for it. Others are taking note. Ford wrote recently that he was "shocked, stunned and disappointed" to see his one-time CLT allies and donors from the Massachusetts High Tech Council endorse "temporary revenue raising options," which council President Chris Anderson noted "could attract significant support from business leaders."
"The outcome is getting more and more predetermined as days go by," says Ford. "We've always felt you've got to resist no matter what happens, because if you don't then the powers that be say 'nobody opposed it.'"
And in a telling sign of the time, Ford rallies the meager remnants of the opposition these days from Kentucky, where he moved two years ago.
Ford says the decision to move came to him in a "flash out of nowhere." He swears it was the voice of CLT icon Barbara Anderson, who died in 2016, saying "you don't need to be here."
But Ford hangs in there, overseeing what he describes as a "winding down" of CLT. And he stays motivated by the thought that "of course Charlie Baker will still try to get me to pay income tax."
---
Beacon Hill Roll Call
Volume 45 - Report No. 43
October 19-23, 2020
By Bob Katzen

LISTEN TO BOB'S SHOW: Beacon Hill Roll Call's publisher, Bob Katzen, hosts "The Bob Katzen Baby Boomer and Gen X Fun and Nostalgia Show" every Sunday night from 6 p.m. to 8 p.m. Jump into Bob's DeLorean time machine and tune in for a trip back to the simpler and happier days of the 1950s, 1960s and 1970s. Recent guests include Tony Dow who played Wally on "Leave it to Beaver."

There are many ways you can listen to the show from anywhere in the world:

If you have a smart speaker, simply say, "Play WMEX on RADIO.COM"

Download the free RADIO.COM app on your phone or tablet

Listen online at: www.radio.com/1510wmex/listen

Tune into 1510 AM if you still have an AM radio

THE HOUSE AND SENATE: There were no roll calls in the House or Senate last week.

FIVE CONFERENCE COMMITTEES HAVE YET TO COME UP WITH COMPROMISE LEGISLATION – This week Beacon Hill Roll Call reports on five conference committees that have been charged by the Legislature to hammer out compromise versions of different versions of five major bills approved by the House and Senate. The committees were appointed In July and August by House Speaker Bob DeLeo (D-Winthrop) and Senate President Karen Spilka (D-Ashland) who each appoint three members to each conference committee—two Democrats and one Republican.

The five bills deal with climate change, economic development, transportation, policing and health care.

According to House and Senate rules, all meetings of conference committees must be open to the public, unless a majority of the committee votes to close the meetings. All five conference committees have voted to bar the public and the media from their meetings.

The 26 members of the conference committees include:

Reps. Thomas Golden (D-Lowell), Patricia Haddad (D-Somerset); Brad Jones (R-North Reading); Ann-Margaret Ferrante (D-Gloucester); Donald Wong (R-Saugus); Claire Cronin (D-Easton), Carlos Gonzalez (D-Springfield), Tim Whelan (R-Brewster), William Straus (D-Mattapoisett), Mark Cusack (D-Braintree), Norman Orrall (R-Lakeville), Ron Mariano (D-Quincy), John Mahoney (D-Worcester) and Randy Hunt (R-Sandwich).

Sens. Michael Barrett (D-Lexington), Cindy Creem (D-Newton), Patrick O'Connor (R-Weymouth), Eric Lesser (D-Longmeadow), Michael Rodrigues (D-Westport), Will Brownsberger (D-Belmont), Sonia Chang-Diaz (D-Boston), Bruce Tarr (R-Gloucester), Joseph Boncore (D-Winthrop), Dean Tran (R-Fitchburg), Cindy Friedman (D- Arlington) and Julian Cyr (D-Truro).

Despite repeated attempts by Beacon Hill Roll Call asking all 26 legislators on the five committees if they would provide us with a list of how many meetings the committee has held and the length of each meeting, only one responded—Sen. Dean Tran (R-Fitchburg), a member of two of the conference committees.

On the conference committee on a bill sponsors say will increase access to health care, protect patients and enhance quality care: "I am anxiously awaiting for the chairs of the Health Care Financing conference committee to convene a meeting of the members for this important legislation," said Tran. "I'm looking forward to discussing the similarities and differences of the bills and hopefully assist with the passage of the legislation."

On the conference committee on a bill sponsors say will allow the state to borrow an estimated $16.9 to $18 billion to spend on transportation projects and infrastructure: "I and members of the Transportation Conference Committee members met in July and the meeting ended in executive session," said Tran. "I very much look forward to continuing the conversation in passing a compromise bill to address the infrastructure needs of our transportation system."

Beacon Hill Roll Call also made repeated attempts asking each member of the conference committees for information on how the talks were going, what are the major differences between the House and Senate version of the bills, why a compromise hasn't yet been reached and whether they think there will be one before the end of the 2020 session.

Only three legislators responded and none of those answered the questions. The others did not respond.

"[Rep. Cronin] cannot comment on the bills or the negotiations while the bills are in conference committee," said Cronin's staff director Stephanie Leone. "The committee is working diligently."

"No comment," said Sen. Brownsberger (D-Belmont).

"We can't talk about that," said Rep. Golden (D-Lowell).

Here are the details about the five committees and the issues:

CLIMATE BILL (H 4933 and S 2500) - IN CONFERENCE COMMITTEE SINCE AUGUST 6, 2020
HOUSE CONFEREES: Co-chair Thomas Golden (D-Lowell), Patricia Haddad (D-Somerset) and Brad Jones (R-North Reading).

SENATE CONFEREES: Co-chair Michael Barrett (D-Lexington), Cindy Creem (D-Newton) and Patrick O'Connor (R-Weymouth).

House 142-17, Senate 36-2, approved different versions of a climate change bill. Both bills include a key section that makes the state's greenhouse gas emissions reduction goal net zero by 2050.

"The science is clear: to avoid the devastation of climate change, greenhouse gas emissions must be reduced to net zero by 2050," said Rep. Joan Meschino (D-Hull) following passage of the House version of the bill on July 31. "This goal will only be met by a comprehensive planning process, which locks in key milestones now to get us there in 30 years."

Some think the bill goes too far. "Both bills are equally as bad, it's only a question to what degree of bad are they," Paul Craney, Executive Director of the Massachusetts Fiscal Alliance told Beacon Hill Roll Call last week. "They both will result in negligible environmental benefit and very high costs. At the end of the day, this debate is not about improving the environment, but instead about imposing a carbon tax, which is a new way of taxing Massachusetts residents on a wide variety of everyday activities."

"If lawmakers wanted to get serious about improving the environment, they would begin discussions on nuclear energy, cleaning water sources including the heavily polluted Merrimac River, and banning the use of clear-cutting forests for solar fields," Craney concluded.

ECONOMY (H 4887 and S 2874) - IN CONFERENCE COMMITTEE SINCE JULY 30, 2020

HOUSE CONFEREES: Co-chair Aaron Michlewitz (D-Boston), Ann-Margaret Ferrante (D-Gloucester) and Donald Wong (R-Saugus).

SENATE CONFEREES: Co-chair Eric Lesser (D-Longmeadow), Michael Rodrigues (D-Westport) and Patrick O'Connor (R-Weymouth).

House 156-3, Senate 40-0, approved different versions of an economic development package. One of the major differences is that only the House version legalizes sports betting.

The packages include $20 million for financial and capital assistance grants to restaurants impacted by the 2019 novel coronavirus; $10 million for grants to promote marketing and advertising for in-state cultural and tourist activities during the reopening process; $40 million to redevelop blighted buildings; $50 million for local economic development projects; $10 million for climate-resilient affordable housing developments; and $15 million for community college high-demand workforce grants.

POLICING (H 4866 and S 2820) IN CONFERENCE COMMITTEE SINCE JULY 27, 2020

HOUSE CONFEREES: Co-chair Claire Cronin (D-Easton), Carlos Gonzalez (D-Springfield) and Tim Whelan (R-Brewster).

SENATE CONFEREES: Co-chair Will Brownsberger (D-Belmont), Sonia Chang-Diaz (D-Boston) and Bruce Tarr (R-Gloucester).

House 93-66, Senate 30-7, approved different versions of a bill making major changes in the state's policing system.

In July, the newly created non-partisan Center for State Policy Analysis at Tufts University released a report outlining the framework for understanding key differences between the two bills and highlighting the choices and trade-offs involved in achieving common ground. A copy of the analysis can be found at: https://tischcollege.tufts.edu/sites/default/files/cSPA_police_reform.pdf

TRANSPORTATION (H 4547 and S 2813) IN CONFERENCE COMMITTEE SINCE JULY 27, 2020

HOUSE CONFEREES: Co-chair William Straus (D-Mattapoisett), Mark Cusack (D-Braintree) and Norman Orrall (R-Lakeville).

SENATE CONFEREES: Co-chair Joseph Boncore (D-Winthrop), Michael Rodrigues (D-Westport) and Dean Tran (R-Fitchburg).

House 150-1, Senate 36-4, approved different versions of an estimated $16.9 to $18 billion package authorizing spending on transportation projects and infrastructure. The package is a bond bill under which the funding would be borrowed by the state through the sale of bonds.

The Senate version of the bill includes a controversial section that allows cities and towns and regions to raise local taxes to fund transportation projects outside of Proposition 2½, which limits property tax increases in cities and towns. The section is not in the House bill.

"It's clear that more and better public transit is needed across the state, and it is important to give local communities and regions the ability to raise funds when they identify particular needs," said Sen. Cindy Creem (D-Newton) when the bill was approved on March 5. "Improving access to business districts that are not currently accessible by public transit is good for workers, small businesses and the overall economy. We are giving communities this option if the voters choose to use it."

"Audacious end-runs around Proposition 2½ do not belong in a bond bill," Chip Ford, executive director of Citizens for Limited Taxation told Beacon Hill Roll Call last week. "If CLT's property tax limitation, which celebrates its 40th anniversary in less than two weeks, is to be assaulted it should be done openly, in the light of day, not buried in an unrelated must-pass bill—and certainly not by stealth in a transportation bond bill."

The House version includes an estimated $522 million to $600 million tax hike to fund improvements to the state's transportation system. None of the hikes are included in the Senate version. Hikes include a 5 cents-per-gallon increase in the motor vehicle gas excise tax; a 9 cents-per-gallon increase in the diesel fuel tax; an increase in the aviation fuel tax from 5 percent of the average price per gallon to 7.5 percent of the average price per gallon; elimination of the sales tax exemption on vehicle purchases for traditional rental car companies; replacing the current flat $456 minimum corporate excise tax with a nine-tiered sliding scale ranging from $456 if the corporation's total sales are less than $1 million to $150,000 if the corporation's sales total $1 billion; and increasing the 20 cents-per-trip flat fee to $1.20 for each non-shared Uber and Lyft ride and $2.20 for every luxury ride. The bill includes language aimed at preventing Uber and Lyft from passing those hikes directly onto riders.

Both package also includes earmarks for hundreds of millions of dollars for hundreds of projects in legislators' districts across the state—many of which will never be funded. The Baker administration is required to adhere to the state's annual bond borrowing cap and ultimately decides which projects are affordable and actually get funded.

Sometimes a legislator will immediately tout the inclusion of local projects in these types of bond bills, especially in an election year to show he or she "brought home the bacon." But be warned that none of the projects in this package have yet been funded and most will end up never being funded because of the borrowing cap and the power of the governor's office to pick which projects actually get the green light.

HEALTH CARE (H 4916 and S 2769) IN CONFERENCE COMMITTEE SINCE JULY 31, 2020

HOUSE CONFEREES: Co-chair Ron Mariano (D-Quincy), John Mahoney (D-Worcester) and Randy Hunt (R-Sandwich).

SENATE CONFEREES: Co-chair Cindy Friedman (D- Arlington), Julian Cyr (D-Truro) and Dean Tran (R-Fitchburg).

House 158-0, Senate 38-0, approved different versions of a bill that sponsors say will increase access to health care, protect patients and enhance quality care. The measure requires insurance carriers, including MassHealth, to cover telehealth services in any case where the same in-person service would be covered and requires reimbursement rates to match in-person services over the next two years. It also eliminates "surprise billing," the much-criticized practice of charging unsuspecting patients who received health care services outside of their insurance plan's network for costs that insurers refuse to pay.

Other provisions would allow registered nurse practitioners, nurse anesthetists and psychiatric nurse mental health specialists who meet specific education and training standards to practice independently; recognize pharmacists as health care providers, enabling them to integrate more fully into coordinated care teams; and create a new professional license for "dental therapists," who will be authorized to provide dental hygiene and other oral health services. Supporters note that this will help expand access to dental care in underserved communities.

ALSO UP ON BEACON HILL

LAURA'S LAW: EMERGENCY ROOM ENTRANCES AND SIGNS LEADING TO THE ER DEPARTMENT MUST BE CLEARLY MARKED (S 2931) – The Senate approved and sent to the House a bill that would require all hospitals to meet minimum criteria and standards that ensure safe, timely and accessible patient access to hospital emergency departments and rooms. The regulations which would be crafted by the Department of Public Health would include legible indoor and outdoor signage and lighting including wayfinding signage that is designed to help a person find their way to the emergency room without lengthy explanations or complicated maps; monitoring of all emergency department access points; requiring proper security monitoring of any prominent hospital door or entrance that is locked at night and through which a patient might try to enter; and any other safety feature that the department deems necessary to ensure daytime or nighttime entry to an emergency room or department.

"When people are in need of emergency services, every minute counts and the dim lights and unclear signage took minutes from Laura that cost her life," said the bill's sponsor Sen. Patricia Jehlen (D-Somerville). "We simply do not want this to happen to anyone again, and we believe this legislation is one step toward saving lives with clear signage, lighting, wayfinding and better security monitoring of emergency department entrances."

The measure is called "Laura's Law," in memory of Laura Levis, a 34-year-old woman who on September 16, 2016 went to CHA Somerville Hospital while suffering an asthma attack. Peter DeMarco, Levis' husband has led the campaign for passage of the legislation. He is a journalist who wrote about Laura's death almost two years ago for the "Boston Globe" in a story called "Losing Laura." According to DeMarco's story, "Laura chose a locked door to try to access the emergency room because the correct door was not properly marked. Though Laura was on surveillance video, the hospital security desk was left unattended all night, so no one saw her. When a nurse from the emergency department eventually looked out the door for Laura, she did not see her, as the spot where Laura collapsed was in near darkness."

Laura had called 911 but by the time first responders found her, she had collapsed in cardiac arrest and died a few days later on September 22.

"I don't think there's any way anyone can question the need for Laura's Law after learning about all the safety failures that lead to Laura's death," said DeMarco following the Senate vote last week. "But with the uncertainty of the pandemic there was a real chance all the efforts we've put into getting this bill this far would have been for nothing. Happy, of course, is not the right word for me on this day. But I am grateful that the Senate has passed this bill, and I very much hope the House of Representatives doesn't take too much more time to do the same."

"She was so full of energy and joy, and always could make me smile with just a little twist of her nose or a raised eyebrow," continued DeMarco. "She was passionately devoted to her friends and family, including our six nephews and nieces. Her mom, Georgia, who passed away from cancer in 2018 following Laura's death, was her best friend. They laughed together about something every single time they talked. She was so strong—she pumped iron at Harvard's gym just about every lunch hour and competed in a few powerlifting competitions—and just so healthy, caring about diet and exercise and macronutrients and meditation and you name it. All this in spite of having asthma."

DeMarco has started a foundation in Laura's name to fund personal gym training sessions for underprivileged and abused women. You can find out more information and donate at www.lift4laura.org

BILLS – WILL THEY BE REFILED? – Beacon Hill Roll Call looks at several bills that were shipped off to a study committee and are dead for the 2020 session. We asked the sponsors whether they will be refiling the measure for consideration in the 2021-2022 session which begins in January 2021.

MUST SHOW DIVERSITY (S 1612) – Sen. Nick Collins (D-Boston) told Beacon Hill Roll Call he intends in 2021 to refile his bill that would require any person, group or business applying for any tax credits from the state to submit a plan for diversity and inclusion, including representation of women, veterans, and persons of color in their ownership, financing, development, administration and contracting. The plan would be submitted to the Supplier Diversity Office and the Office of Access and Opportunity and must be considered in determining eligibility if the tax credits are given.

"This bill is an important step toward helping promote economic justice in the commonwealth and usher in an equitable economic recovery," Collins told Beacon Hill Roll Call. "We are committed to these principles and plan to refile this bill or something similar next session."

Collins explains that the state allocates hundreds of millions of dollars in commercial tax credits annually to attract new business, create local jobs and grow our economy. "While I fully support those efforts, my understanding is that there is no formal requirement for businesses receiving those tax credits to meet certain minimum standards of civil rights, employee rights or discrimination. This [bill] will ensure that those tax subsidies are reaching every community in the commonwealth, rather than simply increasing profitability for well-financed businesses who often come from out of state. I firmly believe that Massachusetts tax credits should benefit all residents … regardless of background, race, gender, creed or color."

LOCAL ALCOHOL TAX (S 1617) – A bill filed by Sen. Cindy Creem (D-Newton) would allow cities and towns to impose up to a 2 percent tax on the sales of alcohol in restaurants bars and stores. The bill would require cities or towns that impose the tax to establish and put all the revenue in a Municipal Substance Abuse Prevention and Public Health Fund and use the money for substance abuse prevention and protecting the public health.

"I originally filed this bill to provide another revenue source for cities and towns to address increasing public health and substance abuse concerns," said Creem. "I will continue to look at ways to help municipalities deal with these ever-increasing costs."

"The bill was filed before the COVID-19 pandemic and we will be reconsidering [whether to refile it] it in light of the economic impact the pandemic has had on the restaurant industry," Creem's chief of staff Richard Powell told Beacon Hill Roll Call.

PAY FINE FOR NOT VOTING (H 653) – This proposal would require eligible voters to cast a ballot in any November General Election or face a fine of $15 that would be added to the non-voter's state tax liability for each election missed. The measure also clarifies that the voter does not have to actually vote for anyone and is allowed to leave the ballot blank.

"There are two schools of thought when filing legislation," said the bill's sponsor Rep. Dylan Fernandes (D-Falmouth) who intends to refile the proposal. "One is filing a bill that is rigorously vetted, that has been combed line by line and that you hope only receives marginal edits through the committee process. The other is filing an idea that you believe is worthy of a robust public debate that will reshape the bill. Although it won't pass this session and may never pass at all, I believe mandatory voting is an idea worth debate and consideration at the Statehouse and by thoughtful citizens across the state because it drives at questions fundamental to our society, which is whether civic participation in democracy is a duty or a right. I filed this bill to spark that debate."

"I am in full support of compulsory voting," said Cheryl Clyburn Crawford, the executive director of MassVOTE. "I just want to make sure it does not disproportionately affect communities of color, low income and new citizens. Maybe consider a sliding scale."

"It's totally ridiculous and just as radical," said Paul Craney, executive director of the Massachusetts Fiscal Alliance. "If politicians can 'fine' voters for not voting, they will feel empowered to penalize voters for not voting for their preferred candidate. This legislation should be rejected at every step of the way."

EXEMPT FISHERMEN FROM LOCAL PROPERTY TAXES (S 1732) - Sen. Patrick O'Connor (R-Weymouth) intends to refile his legislation that would allow cities and towns to exempt licensed commercial fishermen, lobstermen, oyster farmers, and other type of fish farmers from up to 100 percent of the municipality's property tax.

"Our commercial fishing industry supports tens of thousands of jobs across our commonwealth and adds billions of dollars in tax revenue each year," said O'Connor. "It's clear that they are a critical part of our economy and this bill would continue to support the hardworking men and women in this industry."

HOW LONG WAS LAST WEEK'S SESSION? Beacon Hill Roll Call tracks the length of time that the House and Senate were in session each week. Many legislators say that legislative sessions are only one aspect of the Legislature's job and that a lot of important work is done outside of the House and Senate chambers. They note that their jobs also involve committee work, research, constituent work and other matters that are important to their districts. Critics say that the Legislature does not meet regularly or long enough to debate and vote in public view on the thousands of pieces of legislation that have been filed. They note that the infrequency and brief length of sessions are misguided and lead to irresponsible late-night sessions and a mad rush to act on dozens of bills in the days immediately preceding the end of an annual session.

During the week of October 19-23, the House met for a total of 29 minutes while the Senate met for a total of 34 minutes.

Mon. Oct. 19
House 11:00 a.m. to 11:22 a.m.
Senate 11:08 a.m. to 11:19 a.m.

Tues. Oct. 20
No House session.
No Senate session

Wed. Oct. 21
No House session.
No Senate session

Thurs. Oct. 22
House 11:03 a.m. to 11:10 a.m.
Senate 11:08 a.m. to 11:31 a.m.

Fri. Oct. 23
No House session
No Senate session
---
The Boston Herald
Tuesday, October 20, 2020
Critics renew calls for Charlie Baker to decline TCI
By Erin Tiernan

Critics of a controversial regional carbon tax designed to limit greenhouse gas emissions have renewed calls for Gov. Charlie Baker to stop it, saying it's unfair to further burden consumers amid a pandemic that has sent the economy into freefall.

"Since the pandemic hit, our state's economy has declined, and unemployment reached record highs. The future of the Massachusetts economic recovery is in jeopardy if anti-businesses schemes like this are allowed to go into effect," said Paul Diego Craney, spokesman for the Massachusetts Fiscal Alliance.

The Transportation Climate Initiative is a regional compact being between 11 Northeast and Mid-Atlantic states that would implement a gas fee to reduce carbon emissions. Officials have estimated the measure would raise gas prices between 5 and 17 cents a gallon in the first year but it remains unclear how high that cost could rise in subsequent years.

Governors in New Hampshire, Connecticut and Vermont have already cast a shadow on the plan that critics describe as a regressive gasoline and diesel tax. Proponents say the TCI would build a regional program that would cap and reduce greenhouse gas emissions and invest the proceeds in a cleaner, more resilient and more equitable low-carbon transportation system.

Baker has promised no new taxes in the current fiscal year as the state works to dig itself out of the financial hole created by the pandemic. His plan to balance this year's $45.5 billion state budget amid a $3.6 billion revenue shortfall heavily relies on one-time funding from federal reimbursements and the state's rainy day fund.

At a briefing last week, the Republican governor did not withdraw his support for the TCI tax. Legislators, who will ultimately decide the measure, meet on Wednesday to discuss the governor's proposed budget.

"Before the pandemic, Gov. Baker was TCI's biggest cheerleader," Craney said.

Craney, joined by 18 other conservative organizations, sent a letter to governors and lawmakers in all 11 TCI states asking they consider the "substantial economic pain" already facing residents saying TCI would unfairly burden those already disproportionately impacted by the pandemic.

"This is not the right time for costly, feel-good measures that deliver negligible environmental benefits," Craney said.

Massachusetts is currently working with other states to move forward on the initiative. A final memorandum of understanding on the proposed cap-and-invest system was originally expected this spring but was put off amid the pandemic. It is expected to be finalized this fall. At that point, each state will make a decision about signing on to the regional program and would require the approval of the Legislature.
---
State House News Service
Friday, October 23, 2020
Weekly Roundup - Getting Redder
Recap and analysis of the week in state government
By Matt Murphy

Put down the pencils. Hang the costumes in the closet. And put the blade covers back on the skates. Lest anyone forget, the cororavirus is giving Massachusetts a not so gentle reminder that it never really left.

Boston Mayor Marty Walsh pulled back on in-person learning this week, taking Boston Public Schools completely remote as transmission of the coronavirus continues to increase in the city.

The decision was made just two weeks after Walsh said the negative impacts for some high-needs students of not returning to the classroom could not be "mitigated" the way the risk of spreading the virus could.

The exit from the classroom in Boston earned the city a mention on the presidential debate stage Thursday night where President Donald Trump continued to insist the country had turned a corner in its fight against the virus. Gov. Charlie Baker hasn't gone that far, and doesn't agree with the president on much these days, but on the issue of schools the two Republicans seem to be reading from the same page.

Baker said he wouldn't "Monday morning quarterback" Walsh's decision for Boston, but said again that it's not schools where the virus is spreading. Instead, the governor continued to blame social gatherings, primarily of 19- to 39-year-olds, where masks are not being worn and distancing not observed.

In Massachusetts, the daily new case count almost reached 1,000 on Thursday and the seven-day weighted average positive test rate ticked up to 1.5 percent as 77 cities and towns are now in the state's highest-risk "red" category. And his own Department of Public Health on Thursday night decided to shut down ice skating rinks due to clusters of infections the state has observed linked to hockey games, practices and tournaments.

The state, however, is far from being in retreat.

In fact, Baker this week called attention to what his administration described as an ongoing $775 million economic stimulus program that included $115 million in just available funding, the highlight of which was a new $50.8 million grant program for hard hit small businesses.

"To be clear, there's no substitute for the size and scope that a federal aid package could deliver. But that doesn't seem to be in the offing and we certainly don't believe that we can wait," Baker said

While Baker continued to beat the "buy, shop and dine locally" drum, on the North Shore, Salem was looking for the opposite of a jolt to its economy. At least until after this month is over.

With Baker back for the second time in two weeks, Salem Mayor Kim Driscoll pleaded with tourists to stay away, concerned that the ghosts, ghouls and goblins flocking to the Witch City to celebrate All Hallows' Eve were creating a petri dish for COVID-19. Billboards have even been added to state highways announcing the city as closed on October weekends.

"This is not the year to come to Salem, this is not the year to visit," Driscoll said.

Stores are being asked to lock up early the next two weekends, parking lots ordered to close and MBTA trains will bypass the city on Fridays and Saturdays before November.

"I really feel like the fun police here, right? It's the cats-are-biting-the-dogs sorts of scenarios," Driscoll said.

Back on Beacon Hill, most legislators are nowhere to be found, doing the work of their district or making sure they get reelected to stay long enough to see the state through this pandemic. A group of legislators on the House and Senate Ways and Means committees, however, are deeply immersed in budget planning, and dug deeper into the weeds this week when they hosted a hearing on Baker's revised budget proposal for fiscal 2021.

Baker last week downgraded his expectations for tax revenues this year by $3.6 billion, and offered an updated $45.5 billion spending plan that used a lot of one-time revenue sources to avoid the harshest of cuts.

Some legislators said this week they were comfortable with Baker's proposed $1.35 billion withdrawal from the state's reserves, which would leave about $2.2 billion for next year. "That makes you very comfortable because that's what the rainy day is all about," said Rep. Paul Donato, a Medford Democrat and assistant majority leader.

But House and Senate leaders were definitely not ready to put their full stamp of approval on Baker's revised budget, or offer a timeline for when they might offer their own "The governor proposes, the Legislature disposes," said Senate Ways and Means Chairman Michael Rodrigues, repeating what has become a go-to line for him in recent weeks.

Baker's budget chief Michael Heffernan said the administration is focused on stabilizing state services during this crisis, recognizing that people need government the most during times of crisis. That means the administration will not be looking to lay people off or cut back on eligibility for safety net programs, as long as something dramatic doesn't wildly change the state's fortunes, he said.

Baker has asked for a budget to be done by Thanksgiving, and while that's technically still possible, though unlikely, the one thing that's certain is that nothing will be done before election day on Nov. 3.

With less than two weeks until voting ends in Massachusetts, more than a quarter of the state's 4.6 million registered voters have already cast their ballots. Of the 1.3 million votes cast, almost 890,000 have been by mail, with the rest of the voters turning up in person since early voting opened on Oct. 17.

So for a good chunk of the electorate, Baker was too late when he made his endorsement this week of Republican Kevin O'Connor in the Dover attorney's long shot race against U.S. Sen. Edward Markey. In a hand-held cellphone video, Baker said O'Connor would bring "feet-on-the-ground" representation to Washington.

But Baker's endorsement of O'Connor was perhaps more notable for the fact that he chose to back another Republican for Senate, along with Susan Collins of Maine. If O'Connor were to win, the odds of the GOP retaining control of the U.S. Senate would increase greatly, and it can't be assumed that's what Baker wants, even if he is trying to shore up his right flank.

Baker has been frustrated with both parties in Washington, and particularly his own. He has criticized Congress's inability to get a stimulus deal done, and disagrees with the decision of his party to press forward with the confirmation of Amy Coney Barrett to the Supreme Court.

He is also not voting for President Donald Trump for reelection.

Asked about the final debate between Trump and Democratic nominee Joe Biden on Thursday night, Baker said he would be on Zoom calls into the evening, but if he finished in time he would turn it on. It turned out that Zoom call was planned with Maryland Gov. Larry Hogan to whip up support for Vermont Gov. Phil Scott, a Republican running for reelection to the north, according to VTDigger.

The governors reportedly discussed managing the COVID-19 crisis and government as Republicans in blue states.

"If you look around America, you'll discover that most of the governors who seem to do well with their electorate tend to be people who can work with everybody and who focus more on the work and a little less on the noise," Baker said, according to VTDigger. "And I don't think that's a coincidence."

STORY OF THE WEEK: As COVID cases climb, state government eyes small business lifeline
---
State House News Service
Friday, October 23, 2020
Advances - Week of Oct. 25, 2020

Apparently fine with leaving big priorities to be dealt with during rare lame-duck, holiday season sessions, the Legislature remains largely in hibernation and many lawmakers next week will be focused on get-out-the-vote efforts in state and federal elections.

A lot of votes have already been cast either through mail-in or early voting, but there are still many more votes to be had. Early voting runs through Friday, Oct. 30, and as of Friday, 30.8 percent of all registered voters had already voted, with ballots cast equal to nearly 42.6 percent of all ballots cast in the 2016 election. Nearly 966,000 ballots have been returned by mail and voters have cast nearly 473,000 ballots in person.

Appeals to voters are primarily occurring electronically or at a safe social distance, as confirmed COVID-19 cases are climbing and threatening to surpass the 1,000 per day mark. In just over seven months, Massachusetts is nearing the grim milestone of 10,000 deaths - the state announced its first COVID-19 death, a man in his 80s, on March 20.

More communities are being classified as high-risk for virus spread, which also puts the state's economic recovery at risk. Outside of the rising virus concerns, hopes for a federal stimulus deal before the election are fading and the nation appears locked into a path of getting through Nov. 3, and then sizing up the results and dealing with policy and budget challenges afterwards.
---
CommonWealth Magazine
Tuesday, October 20, 2020
Toppling Baker top of mind for Dems
By Bruce Mohl – CommonWealth editor

The Democratic Party in Massachusetts is riding high. Heading into the election just two weeks away, party members control the entire congressional delegation, are looking to add to their dominance in the Legislature, and have a lock on four of the six constitutional offices.

It's those two unclaimed constitutional offices for governor and lieutenant governor that are nagging at party leaders, and prompting Bob Massie and Mike Lake to challenge Gus Bickford for the party's chairmanship in an election that will take place two weeks after the November 3 national election.

The big question mark in the race for state party chair is how to take out Gov. Charlie Baker in 2022 if he runs for office again, or Lt. Gov. Karyn Polito if the governor steps aside.

Polito would be the far easier challenge. Baker has brought her into the public eye during the coronavirus pandemic, designating her as co-chair of the state's reopening committee and giving her a platform where she can interact regularly with the press. But she still remains in Baker's shadow, the understudy waiting for her chance.

Baker, meanwhile, gives little indication which way he is leaning. He still seems to enjoy his job and, amazingly, seems that rare politician who is hard to define politically. President Trump calls him a RINO and Boston Herald columnist Howie Carr calls him Tall Deval, but liberal Democrats still chafe at his reluctance to raise taxes and his refusal to extend the eviction moratorium.

Baker has even navigated the Trump tilt of the state Republican Party without missing a beat. After Trump partisans seized control of the party, Baker pulled his fundraising operation out and coordinated the setup of a super PAC that has raised more than $1.5 million and spent $600,000 on a wide assortment of both Democratic and Republican candidates.

Bickford, who came into office in 2016 promising to oust Baker, hasn't had much success. He has tried just about everything, slamming him for privatizing services at the MBTA, for failing to criticize Trump enough, and, in the wake of four derailments, for not personally riding the T to experience what riders are experiencing.

None of the attacks did much damage, although Baker earlier this year did start riding the T into Boston from his home in Swampscott. He's even put his experience on the T to good use, urging riders to get back on board. "I can't think of a less risky activity," he said.

Neither Massie or Lake have laid out a specific game plan for taking out Baker if he decides to run again, but it's clearly on their minds.

"We have to make sure the next governor is prepared to rebuild Massachusetts in a way that helps everyone in the Commonwealth," Lake, a two-time former statewide candidate for office who runs the global non-profit Leading Cities, told State House News.

Massie told Politico that a lot has changed over the last four years. "It's not the same world, it's not the same America, it's not the same Massachusetts. And I just don't think the party is doing enough to bring new people in and new energy, young people and so forth, but also to meet those challenges," Massie said. "As long as the party is still unclear about structures or still battling internal issues, it's going to be harder to beat [Baker]."
---
State House News Service
Tuesday, October 20, 2020
Some Lawmakers "Comfortable" With Stabilization Fund Use
By Matt Murphy and Sam Doran

Leaders from both parties in both branches of the Legislature on Monday said they thought Gov. Charlie Baker's plan to use up to $1.35 billion from the state's savings account to balance a fiscal 2021 budget was appropriate given the size of the budget gap and circumstances of the COVID-19 pandemic.

Baker last week lowered his administration's expectations for tax revenues in the current fiscal year by $3.6 billion, and put forward a revised spending plan that used more than one-third of the state's $3.5 billion "rainy day" fund and $1.8 billion in federal relief money to cover spending.

"That makes you very comfortable because that's what the rainy day is all about," said Rep. Paul Donato, a Medford Democrat and assistant majority leader.

With fiscal year 2022 also promising to be a challenging budget year because of the coronavirus, Baker's plan would leave about $2.2 billion in reserve, but would not make any further deposits this year.

Senate Minority Leader Bruce Tarr called Baker's reliance on stabilization fund money "modest."

"I think it's very notable that the budget doesn't increase taxes and that it preserves safety net eligibility for all the programs that people are depending on. But I also think that it avoids the temptation to have an over-reliance on a withdrawal from the stabilization fund. And having that discipline means using other tools that may not be as common but are warranted if we're going to be able to weather this storm for the long term," Tarr said.

The Gloucester Republican was referring to options recommended by Baker that include accelerating the collection of sales tax revenue to capture one additional month of revenue next fiscal year.

"I think in years past oftentimes we have withdrawn too much from the stabilization fund, and I think we've done it when it wasn't necessarily appropriate," Tarr said. "I think it's indisputable that we need to use the stabilization fund now to mitigate the effects of the pandemic on our economy and on our tax revenue. So I think this is a moderate withdrawal from the fund, and again, I think it's one that leaves us poised to be able to deal with contingencies that might arise in the future."
---
State House News Service
Wednesday, October 21, 2020
Baker Files Interim Budget to Cover Spending Through November
By Katie Lannan

Gov. Charlie Baker on Wednesday filed a new temporary budget to keep state government running through the end of November, a plan that landed as lawmakers were reviewing his revised $45.5 billion annual spending plan.

The $5.4 billion bill would be the state's third interim budget for the fiscal year that started in July, and its passage will give lawmakers a few more weeks to put together a budget for the remainder of fiscal 2021.

The governor has said he wants the House and Senate to return a finished budget to him by Thanksgiving.

The current temporary budget runs through the end of October. Baker had originally proposed a one-month, $5.15 billion bill that would run through the end of August, but lawmakers, hoping to see another stimulus package from Washington D.C. that still has not materialized, extended it to run for three months and $16.5 billion.

The House and Senate Ways and Means committees on Wednesday are holding a virtual hearing into the revised budget that Baker filed last week, which proposes to use new federal money and up to $1.35 billion from the state's reserves to boost spending even though tax collections are forecast to decline this fiscal year.

Administration and Finance Secretary Michael Heffernan described the new budget during the hearing as "a fiscally responsible plan that makes big investments in our schools, small businesses and vulnerable communities."
---
CommonWealth Magazine
Monday, October 19, 2020
The two sides of ranked-choice voting
By Shira Schoenberg – CommonWealth reporter

Massachusetts voters will decide on the November ballot whether to overhaul the state's system of voting by switching to ranked-choice voting for most non-presidential elections.

Under ranked-choice voting, as envisioned by Question 2, each voter ranks candidates according to preference. A candidate who gets more than 50 percent of first-choice votes wins. If no candidate reaches that threshold, however, the candidate with the fewest first-choice votes is eliminated and their ballots are recounted based on the voter's second choice. The process repeats until someone gets a majority.

Evan Falchuk, chair of the YES on 2 campaign and a former United Independent candidate for governor, and Nick Murray, a policy analyst with Maine Policy Institute, joined The Codcast – in separate interviews – to discuss the pros and cons of ranked-choice voting.

"Ranked-choice voting is a simple upgrade to our democracy that gives voters a greater voice and more choices," Falchuk said. "It makes it so voters never feel their vote is wasted because they can vote for who they truly like without worrying that they'll split their vote or they're going to be voting for a spoiler."

But Murray says ranked-choice voting, which is used in Maine, actually has a less representative outcome. He focused on the fact that some ballots are thrown out, or "exhausted," because a voter did not rank enough choices to reach the final rounds of tallying. "How can a voting system be considered more democratic or more responsive to the voters if it needs to remove voters from the final tally to get to its stated goal of a majority?" Murray said. "It simply is a false majority."

Falchuk argues that many of the problems with the current system – negative campaigning, pandering to a small voter base, the feeling of needing to "pick between two evils" – will be lessened with ranked-choice voting.

Falchuk said third party candidates will get a boost because voters will have fewer worries about "spoiler" candidates or electability, since if a person's first choice gets eliminated, their second choice will count. "It levels the playing field for new voices and new choices," Falchuk said. "The math doesn't end up encouraging strategic voting, you can just pick who you actually like."

But Murray said ranked-choice voting ends up disenfranchising more voters – particularly those who have less information, speak English as a second language, are less educated, or older. These voters, he said, are more likely to mark their ballots incorrectly or rank fewer choices leading their ballots to be "exhausted" before the end of the count. Regular elections, he said, typically see 2 to 3 percent of ballots thrown out due to mismarking, while ranked-choice voting typically has 10 to 11 percent of ballots that are uncounted in the final tally.

Murray said ranked-choice voting still leads to strategic voting – for example, voters must decide how important it is to rank a certain candidate first to avoid another candidate reaching the 50 percent threshold – but "it makes that strategizing much more complex."

Murray said Maine has continued to see negative campaigns and outside spending even with ranked choice voting. "We know the nature of politics runs much deeper than the way we vote," he said.
---
The Boston Herald
Saturday, October 24, 2020
Massachusetts Question 2: Should the Bay State have ranked-choice voting?
By Sean Philip Cotter

People voting this fall have the option to change how Bay Staters do so in the future.

A "yes" vote on Question 2 would implement a ranked-choice, or "instant runoff" voting process for state and congressional elections here.

Under such a system — which has been adopted by the state of Maine, as well as numerous cities nationwide — voters would be able to rank as many candidates as they want in order of preference. Vote talliers first look at all of the first-place votes, and, if someone has a majority, the election stops there and that person wins, as is the case right now.

But if no candidate garnered more than 50%, the bottom vote-getter is eliminated, and all of the ballots that went to them are allocated to the voters' second-place choices. If still that gets no one above 50%, the process repeats, eliminating one candidate per round until there are only two candidates left, at which point the one with the most votes wins.

Proponents' main arguments in favor of Question 2 are that ranked-choice voting eliminates the possibility of "spoiler" candidates, encourages more people to run — including more independents and third-party candidates, and makes for winners who more broadly represent the will of the electorate.

"Yes on 2" board chairman Evan Falchuk — a onetime third-party candidate himself for Massachusetts governor — also claims that ranked-choice voting makes for more politically civil races, as candidates who go on the attack could scare off other people's supporters from tossing them a second-choice vote.

"In a ranked-choice election, you can vote third party, and the vote isn't wasted," Falchuk said, adding that he would expect it to create more competitive elections in Massachusetts. "Right now, people win with 20%, 25% of the vote. Maybe that represents what the majority wants, but we don't know."

But opponents say these claims simply aren't true — that there's no rise in third-party candidates, and that this just sows uncertainty.

"Why would you inject all this confusion for nothing?" said Anthony Amore, a former candidate for secretary of state.

He said that asking people to rank, say, nine people — like they could have in the 4th Congressional Democratic primary this year — is "impractical," and that it will confuse low-information voters, resulting in more people not casting ballots.

"It's ranked guess voting," Amore said, pointing to some cities that have implemented it and then rescinded it. "It's terrible and it doesn't work."

A poll out Friday from Spectrum News/Ipsos has 45% of Massachusetts adults saying they support the idea of ranked-choice voting, with 34% opposed and 21% undecided.
---
The Boston Herald
Saturday, October 24, 2020
By Marie Szaniszlo
Massachusetts Question 1: Who gets data that can be used to repair your car?

Opponents of ballot Question 1 — the so-called Right-to-Repair law — claim that it could make the public less safe by expanding the availability of car-repair data, while proponents say the proposed law would allow consumers to be the gatekeepers of that information.

A similar law passed in 2012, mandating that manufacturers give any local repair shops that car owners brought their vehicles to the same diagnostic and repair information that auto makers gave to franchise dealers.

But today, up to 90% of new cars have telematics — sensors that collect that data in real time — something the 2012 law didn't foresee, said Tommy Hickey, director of the Right to Repair Coalition, a group of 1,600 independent repair shops.

"Your car is now a computer on wheels, and we feel you should get to decide who repairs it and where that data goes," Hickey said. "In 2012, voters asked for a level playing field: Whatever the dealer got, the car repair shop got. Now, because of telematics, dealers have found a way to circumvent that."

But Conor Yunits, a spokesman for the Coalition for Safe and Secure Data, which represents 16 automakers, claims that data collected through telematics is not necessary to repair cars because it's used for other things, such as turn-by-turn navigation and emergency crash notification.

"Repair information already is available to independent repair shops," Yunits said. "There is no need at all for Question 1."

If anything, he said, the proposed law, if passed, would give hackers the ability to upload code to vehicles and could lead to malware and ransomware being uploaded to cars.

"It creates an unnecessary cybersecurity risk," Yunits said.

Hickey dismissed that argument as a scare tactic, adding that hacking already exists today.

"This can be done in a safe and secure way," he said. "There is no GPS information that would be shared. This is about mechanical information necessary to diagnose and repair your car. Car manufacturers are already giving this information to dealerships. Voting no isn't going to stop the collection of this data. Voting yes empowers as a car owner to get direct access to that information through an app on your phone or on your car dashboard."