The House is newly in receipt of an ambitious Senate-passed carbon pricing bill and now a House-approved bill addressing the impacts of climate change is stirring to life in the Senate.
The Senate Bonding, Capital Expenditures and State Assets Committee plans a public hearing Tuesday afternoon on a $1 billion GreenWorks proposal to finance climate change infrastructure and resiliency grants. The borrowing bill has been resting before that panel since it cleared the House last July.
The House bill (H 3997) also calls for $100 million in spending on a municipal microgrid energy systems matching grant program, a $125 million program to encourage the electrification of vehicle fleets owned by municipalities or regional transit authorities, and $30 million for rebates intended in spur people to buy electric vehicles.
The House relies purely on borrowing to finance its proposal; a similar measure filed by Gov. Charlie Baker would raise the state's deeds excise tax to generate as much as $137 million a year. Senate leaders haven't stated whether they prefer borrowing, a new tax, or some other option.
The Senate approved its carbon pricing bill (S 2477) on Jan. 30 while the House agreed to push back the deadline for a committee report on a similar pricing bill from February into early June. The Senate bill calls for net-zero carbon emissions by 2050 and sets deadlines for the state to impose carbon-pricing mechanisms for transportation, commercial buildings and homes, while leaving the critical specifics up to the executive branch.
State House News Service
Wednesday, February 19, 2020
GreenWorks Bill's Long Senate Siesta Coming to End
---
Business owners and commuters may soon feel the pain of a new broad-based tax, being promoted as an environmental policy. The Transportation and Climate Initiative (TCI) is an 11-state compact to reduce carbon emissions by imposing fees on fuel distributors, which will increase gas prices significantly for drivers and put Rhode Island's small businesses at a major competitive disadvantage.
As details of TCI become clear, more states are questioning their support for this deeply flawed public policy.
Proponents deceptively argue TCI isn't a tax because it's the fuel distributors that would be forced to buy "allowances" for the carbon intensity of their product. The proceeds of these fees would be used by the state to promote non-fossil fuel transportation such as public transit or electric car charging stations.
But don't let that misleading pitch fool you — if it hits your wallet like a tax, and the state is ultimately getting your hard-earned money, it's a tax.
Economic projections from the crafters of TCI show if implemented, gas prices would rise as high as 17 cents a gallon. Ironically, they also admit that carbon would already be reduced without TCI over the next 10 years by 19% because of better fuel economies and technology. According to the program's own analysis, TCI would only deliver between a 1% and 6% reduction in carbon, but at an extremely high price tag for all Rhode Island commuters and small businesses.
Many small businesses require fuel for their operations — from landscapers and excavators powering machines to pizza and flower shops making deliveries. If the price of fuel rises, the cost of products and services provided by those companies will increase for the consumer.
It will also become more expensive to ship products from Rhode Island manufacturers, and retail stores will pay more for goods. Meaning the budgets of consumers will be further strained.
The multi-state approach of TCI was intended to ensure the price of fuel would rise uniformly across the region so no state would get an economic advantage. But the compact is starting to fall apart....
Governor Raimondo appears to stand with Massachusetts Gov. Charlie Baker as a resolute supporter of this costly plan. But House Speaker Nicholas Mattiello took a different tone, stating that any tax increase, including a gas tax increase resulting from TCI, would be looked at "skeptically."
As the coalition of TCI states crumbles, Rhode Island can choose to tether itself to a high-cost state like Massachusetts or opt-out on behalf of taxpayers like New Hampshire.
All small businesses, workers, and drivers in our state should demand their elected officials reject the Transportation and Climate Initiative to keep transportation costs affordable and avoid this economically devastating policy.
The Providence (RI) Journal
Thursday, February 20, 2020
Fight governor's higher gas prices
By Christopher Carlozzi
---
In addition to the potential for a House transportation revenue bill to emerge -- the House is planning a formal session Wednesday, but the speaker's office has not indicated what legislation might come to the floor -- House lawmakers plan to sit down for a hearing on Gov. Charlie Baker's $18 billion transportation bond bill.
Also, advocacy groups pressing Beacon Hill to make a big play for new transportation funding are mounting another "call to action" Tuesday following a similar event last October.
Legislative leaders agree with advocates that the current situation - often substandard public transit service and frequently clogged major roadways - requires a bold response. However, House leaders have struggled to come up with a plan they feel confident could clear the House, be reconciled with the Senate, and overcome any objections from Gov. Baker, all in an election year.
Baker says current record spending levels combined with the outlays he's seeking in his bond bill are enough to tackle the problems. The governor is also seeking reforms to expedite spending, an area where there's conflict between the executive and legislative branches.
Lawmakers are weighing proposals to increase the gas tax and ride-for-hire company fees, while potentially easing the financial burdens facing MBTA and regional transit authority users. House Speaker Robert DeLeo's updated timeline for the House to address the issue is sometime before the branch tackles the fiscal 2021 budget in April.
State House News Service
Friday, February 21, 2020
Advances - Week of Feb. 23, 2020
---
The long arm of the law, belonging these days to U.S. Attorney Andrew Lelling, reached into the State House this week for an 11-term incumbent, dropping a lit firecracker into a building that had been ready to take it easy for a few days.
Federal agents arrested long-time Democratic Rep. David Nangle at his Lowell home on Tuesday morning, breaking up what was supposed to be a quiet school vacation week by dragging Nangle before a magistrate in Boston where he pleaded not guilty to a raft of charges related to the illegal use of campaign funds and bank fraud.
Lelling accused Nangle of digging himself deep into gambling debt at a variety of New England casinos, and then using his campaign account, and fraudulently obtained loans, to finance a lifestyle he could not afford.
Flowers, golf club dues, hefty restaurant tabs.
Nangle, according to the indictment, was spending well beyond his means and taking steps, such as concealing income from the IRS and fabricating income to qualify for loans, in order to pay for it all.
"This was not a momentary lapse or a technical foul. This was a systemic pattern of theft and fraud going back to 2014," Lelling said....
Nangle's indictment stunned many of his colleagues on Beacon Hill into silence, literally. Many of them just shook their heads and kept walking rather than make a comment to reporters swarming the building.
State House News Service
Friday, February 21, 2020
Weekly Roundup - A Nangled Web
---
Lowell state Rep. David Nangle is facing 28 federal charges for "brazen and wide-ranging" misconduct and allegedly using campaign funds to pay for personal expenses as he racked up "tens of thousands of dollars" in gambling losses, according to a federal indictment.
Nangle, 59, was arrested Tuesday morning and pleaded not guilty to all counts at his arraignment in U.S. District Court. He was released on a $25,000 unsecured appearance bond. A magistrate judge also restricted Nangle from participating in any gambling activities....
U.S. Attorney Andrew Lelling, at a press conference at his office Tuesday, emphasized Nangle's alleged activity was long-running.
"This was not a momentary lapse of judgement," Lelling said. "This was a systematic pattern of theft and fraud going back to at least 2014."
Joseph R. Bonavolonta, special agent in charge of the Federal Bureau of Investigation's Boston office, said, "His alleged misconduct, as outlined in this indictment, is brazen and wide-ranging."
"Let me be clear: this is not a case of mismanagement, sloppy accounting, or innocent mistakes. We believe this was a deliberate, yearslong attempt by Mr. Nangle to break the laws he was sworn to uphold," Bonavolonta continued.
The indictment lists a wide range of Nangle's alleged illicit activities, including using campaign funds to pay for personal expenses, defraud his bank lender and collect income that he failed to report to the IRS.
Prosecutors say Nangle frequented casinos in Connecticut, Massachusetts, Rhode Island and New Hampshire, in addition to placing "thousands" of bets on gambling sites, incurring "tens of thousands of dollars in gambling-related spending and losses."
The feds say Nangle raised hundreds of thousands of dollars in campaign funds despite running unopposed since 2013 and used the campaign funds to supplement his personal finances.
"Simply put, Representative Nangle used the power of his position on Beacon Hill to fund a lifestyle out of his reach, unwittingly financed by those who put him there while also cheating the taxpayers," Bonavolonta said.
The Boston Herald
Tuesday, February 18, 2020
Lowell state rep pleads not guilty to federal campaign spending charges
Federal Indictment of Rep. David Nangle
---
Rep. David Nangle plans to fight the more than two dozen federal fraud charges unveiled against him Tuesday, and in the meantime, House leaders are not saying how they plan to respond.
House Speaker Robert DeLeo said in an afternoon statement that the allegations are "serious and troubling and, if true, represent a significant betrayal of the public trust." However, he did not offer any insight into whether Nangle will retain his leadership and committee posts while awaiting trial or whether the House planned to open its own investigation into Nangle's supposed campaign finance violations and gambling debts.
"I was shocked and disappointed to learn of his indictment this morning," DeLeo said in a statement. "Representative Nangle has been a friend and colleague for over 20 years. Never once during that time did I have an inkling that he had a gambling problem, much less a gambling problem as extensive as what has been reported today."
Asked if the House Ethics Committee had launched an inquiry or if Nangle would continue to receive his public salary — $66,257 annually with another $30,000 stipend for serving as second division chair in the House — a DeLeo spokeswoman declined to comment beyond the speaker's statement....
Nangle arrived to the courtroom for his arraignment in handcuffs and ankle shackles. An officer took the handcuffs off as he entered, then put him back in handcuffs to escort him out of the room.
The FBI's Boston office began investigating Nangle in November 2017, officials said Tuesday, and authorities believe Nangle's fraud dates back to at least 2014.
State House News Service
Tuesday, February 18, 2020
Nangle Pleads Not Guilty to Fed Corruption Charges
"Shocked" DeLeo Never Heard of Gambling Problem
---
Indicted Lowell state Rep. David Nangle stepped down Wednesday from leadership and committee posts a day after pleading not guilty to 28 federal charges in his corruption case — but he did not resign.
"I think that's appropriate," Gov. Charlie Baker told reporters Wednesday after Nangle relinquished his title as second division chair in the House, and with it a $30,000 bonus on top of his $66,257 base salary as a legislator, and, in an email to the House Clerk, removed himself from his assignments.
The Boston Herald
Wednesday, February 19, 2020
Embattled Lowell state Rep. David Nangle resigns top posts amid corruption charges
'I think that's appropriate,' said Gov. Charlie Baker
---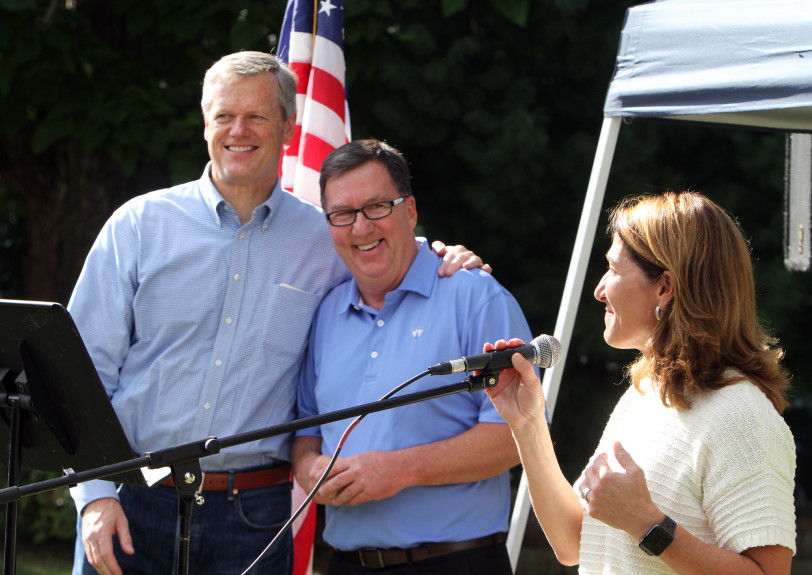 Boston Herald Photo: Rep. Dave Nangle's fundraisers always attract top state politicians. At his annual steak and lobster event at Lenzi's in Dracut in September 2018, Nangle shares the spotlight with Gov. Charlie Baker and Lt. Gov. Karyn Polito.
Here he is, the hack du jour, Rep. David Nangle of Lowell, with two of his closest political friends, Gov. Charlie Baker and Lt. Gov. Karyn Polito, in what are customarily described as happier times.
Nangle is a Democrat, and Tall Deval and Polito are Republicans, but what's party affiliation mean at the State House?
I mean, if you're indicted, you're invited, and Nangle got the ultimate invitation Tuesday — he was arrested by the FBI after a 28-count corruption indictment for, among other crimes, mail fraud, wire fraud and filing false tax returns.
The extinguished statesman is, of course, a member of the House Ethics Committee.
Nangle is 59, a former gas company employee who discovered his mission in life when he got a job as a hack coat-holder for the local hack state senator. There's a long, long history of sticky fingers in Lowell politics — B. Joseph Tully, the ex-state senator, went away for attempted extortion at age 61 and then at age 84 was convicted of attempted extortion.
He was succeeded by Paul Sheehy, a jailbird state rep when he was elected to the state Senate, after a short stretch in Danbury for bank fraud where he was visited by young Marty Meehan, the future $602,500-a-year president of the University of Massachusetts....
Please, try not to let this destroy your faith in the integrity of the Massachusetts General Court. Look on the bright side — it took 49 days for the first solon of the year to get indicted.
The Boston Herald
Wednesday, February 19, 2020
Finding corrupt Mass. pols is no gamble
By Howie Carr
---
Members of the Governor's Council are accusing the Baker administration of creating a "patronage pipeline" with nominations to high-paying state court jobs.
Last week, Fitchburg attorney Damian Riddle was approved by the Governor's Council for a clerk magistrate position with the Ayer District Court. Riddle, who was nominated by Lt. Gov. Karyn Polito, has donated at least $850 to Polito's campaign since 2017, including a $500 contribution shortly before he applied for the magistrate's job.
Eileen Duff, one of two councilors who voted against confirming Riddle, said the nomination is the latest in a series of examples where applicants with connections to Polito and Gov. Charlie Baker have landed "lifetime" jobs with the state.
"It's really disturbing," said Duff, a Gloucester Democrat whose council district includes most of Essex County. "It makes me question the integrity of the judicial nominating process."
Massachusetts is one of few states where judges are appointed to the bench for life. Polito, a Shrewsbury Republican, chairs the eight-member Governor's Council, which has final say on judicial nominations....
Other councilors have raised concerns about a growing perception that people with ties to the governor and lieutenant governor have a leg-up on plum judicial appointments.
Councilor Bob Jubinville, a Milton Democrat and defense attorney, has voted against several of Baker and Polito's appointments because of their political connections.
At confirmation hearings, he has chided other councilors for not being skeptical enough of the nominating process, which he says is done largely "behind closed doors."
"We're supposed to be a check and balance on a powerful governor," Jubinville said. "We're not supposed to be in his pocket. We're supposed to be independent."
The Salem News
Thursday, February 20, 2020
Baker-Polito nominations draw claims of patronage
---