The House passed its fiscal 2018 budget on a 159-1 vote Tuesday night, green-lighting the more than $40 billion spending plan after just two days of debate.
Representatives dispatched 1,210 amendments between Monday and Tuesday, grouping many of the measures together into "consolidated" packages of amendments that were approved with little public debate after closed-door meetings. The final vote came shortly after 10 p.m.
The budget clocked in at $40.3 billion when it was introduced by the House Ways and Means Committee, and lawmakers added tens of millions of dollars in spending on state programs and local earmarks throughout the course of debate....
Rep. James Lyons, an Andover Republican, cast the sole vote against the budget. Lyons frequently criticized the budget process during the debate, calling out Democrats for proposing further study on Republican-backed amendments instead of voting directly on the issue....
Though sessions had been tentatively scheduled throughout the week for the budget debate, the House won't meet on Wednesday after wrapping its budget deliberations faster than any year in recent memory. The House will meet next on Thursday at 11 a.m.
From 2012 to 2016, representatives spent three days debating the following fiscal year's budget. The debate spanned four days in 2011 and five days in 2010.
After the Senate releases and debates its budget proposal next month, members of each branch will try to reconcile the two pieces of legislation into a final spending plan before the start of the new fiscal year on July 1.
State House News Service
Tuesday, April 25, 2017
House wraps debate on state's first $40B budget
---
After rejecting proposals to boost taxes, the Massachusetts House added $77.7 million in spending to the annual budget bill this week, the bulk of it in funds that may be spent only on particular projects, according to an analysis by a business-backed policy group.
The Massachusetts Taxpayers Foundation reported that the House budget weighed out at $40.8 billion, about $80 million less than Gov. Charlie Baker's $40.9 billion bottom line. The foundation includes in its bottom line calculations of a $450 million transfer to a medical assistance trust fund.
The report said the House budget spends less than the governor's proposal because "the House underfunds several major programs that will likely require supplemental spending later in the fiscal year." ...
There were some charged debates, but the majority of the amendments arrived on the floor pre-packaged for passage as consolidated amendments that were assembled in a backroom by House leaders.
Asked why the House does not allow the decision-making process to play out in public, House Speaker Robert DeLeo on Tuesday said there are opportunities for feedback and said the public's interests are addressed in the resulting budget document.
"The most important thing that I think we can do is to show that we represent the constituents that we're here to represent, and I think that if you take a look at the bottom line in terms of what the priorities of what the House are and what the priorities of our constituencies are, I think that you'll find that we hear what the people of the Commonwealth want and we're responding to what they want," DeLeo told reporters.
Several House lawmakers who pressed for higher taxes said the state budget isn't supporting programs and services that the public desires....
The Senate plans in May to pass its version of the budget and then a conference committee will be charged with recommending a consensus budget in time for the July 1 start of fiscal 2018.
State House News Service
Wednesday, April 26, 2017
House added $77 Mil to budget that underfunds major accounts, report says
---
Leaders of the state's House of Representatives this week are set to conduct an annual ritual of meeting behind closed doors to sort out local budget requests, deciding winners and losers while leaving taxpayers to guess why some got money but others didn't.
It's past time for this negotiation to move into the open....
The problem lies in the sorting. Speaker Robert DeLeo, Ways and Means Committee Chairman Brian Dempsey and other House leaders and staff typically meet with individual lawmakers to hear these requests and gather information. They weigh which ones are important enough to fold into the budget. And, if past practice holds, they do all of this in a room adjacent to the House chamber — out of the view of the press or public.
The results will be hard to decipher. Money for local projects gets bundled into spending packages, the language of which may allude to amendments filed by lawmakers but is unclear on where the money is going. Maybe our reps will be following along closely enough to know if their requests have been granted. But until votes are taken and a final budget written, it will be difficult for anyone else to know what's happening.
So much mystery shrouds this process, it's as if our lawmakers are children bringing their lists to Santa, only to pad down the stairs on Christmas morning and unwrap boxes to find out if their wishes have been granted.
This process isn't the making of DeLeo or Dempsey. It dates, at least, to former Speaker Thomas Finneran. But there's simply no good reason for this negotiation to continue this way. The only possible explanations for it are unacceptable — whether it's because lawmakers want cover when projects don't make the cut, or because horse-trading House leaders use this to leverage promises from individual lawmakers, or because friends of House Democrats get rewarded while others are punished....
So, the House this week should step into the light and at least invite the public and press to attend these meetings on budget amendments filed by individual lawmakers. Then people will see the focus of their representatives' advocacy and be able to judge for themselves the merits of projects in various parts of the state.
To do this any other way violates the spirit of open government that is fundamental to our state.
A Salem News editorial
Monday, April 24, 2017
House should hold budget discussions in public
---
It represents activity covering only two weeks, but tax collections over the first half of April marked a break from the long-running pattern of slow growth.
Compared to the first half of April 2016, total tax collections through April 14 shot up 31 percent, or $218 million....
Accounting for the early April bump, tax collections over the first nine-plus months of fiscal 2017 are up by 2.8 percent over the same period in fiscal 2016. The fiscal 2018 budget, which the House plans to debate during sessions next week, is predicated on tax collections increasing by 3.9 percent.
Collections over the first half of April were up across the board, with income taxes rising 24 percent, sales and use taxes 17 percent, and all other taxes up by $11 million or 26 percent. Taxes that revenue officials lump into the "other" category have been worth $1.69 billion to the state this fiscal year....
Corporate and businesses tax collections of $58 million over the first half of April were up by 964 percent over the $5 million collected by mid-month 2016. Fiscal year-to-date, corporate and business tax collections are up 3.9 percent over the same period in fiscal 2016.
Withholding collections, which are closely monitored because they reflect current labor conditions, totaled $561 million over the first half of April, up $106 million or 23 percent from mid-month April 2016. Fiscal year-to-date withholding collections are up 5.1 percent.
The appetite for spending among House members is certainly there, although House leaders are expected to turn back major spending measures next week.
According to the Taxpayers Foundation, 951 of the 1,210 amendments filed for consideration next week have a fiscal impact. And if all of those amendments were adopted, it would add $2.07 billion in spending to the state budget. During last April's budget deliberations, the House agreed to add $58.6 million in state spending through the adoption of budget amendments.
State House News Service
Friday, April 21, 2017
Payments surge over first half of state's biggest tax collection month
---
Lawmakers are pitching controversial plans to help the state's poorest families with an expensive, albeit messy necessity — diapers.
A proposal filed by Sen. Joan Lovely and Rep. Paul Tucker, both Salem Democrats, asks health officials to study creating a diaper subsidy for low-income families with children under 2 years old.
"There's no question that diapers are an absolute health necessity for babies, and some parents can't afford it," Lovely said. "This is a huge issue that needs to be addressed."
Diapers aren't covered by federal food stamps, known as the Supplemental Nutrition Assistance Program. Nor are they provided by the Women, Infants and Children nutrition program, which classifies them with cigarettes and alcohol as invalid items.
"You would think diapers would be included in these programs," Lovely said.
Welfare assistance can be applied to anything a family needs....
If the plan takes shape and is approved, Massachusetts would be the first state to provide diaper subsidies.
Last year, California lawmakers overwhelmingly passed a bill giving a $50 monthly diaper voucher to families on welfare with children under age 2.
Gov. Jerry Brown vetoed the plan, citing the impact on the budget.
Efforts to create federal diaper subsidies have been unsuccessful....
In Massachusetts, parents already get some help with diaper costs. The Bay State is one of seven — Rhode Island, Minnesota, New Jersey, New York, Pennsylvania and Vermont are the others — that exempt diapers and diaper liners from sales taxes.
Plans for a wider subsidy are drawing criticism from those who believe the state's welfare system is already too large.
"My God, where does it end?" said Chip Faulkner, a spokesman for Citizens for Limited Taxation. "I can understand providing for basics such as food and shelter, but to get involved at this level goes far beyond the state's role."
The Salem News
Wednesday, April 26, 2017
No rash decision: Lawmakers seek cash for diapers
---
NORTON — For the second time in two years residents have rejected a tax hike to supplement the town budget, and this time it was by a much larger margin.
A $2.2 million tax hike through an override of state tax levy limiting law Proposition 2˝ was defeated by a vote of 2,801 to 2,037, or 57 to 43 percent at Tuesday's annual town election. The measure lost heavily in all but Precinct 2 where it failed by a mere 17 votes.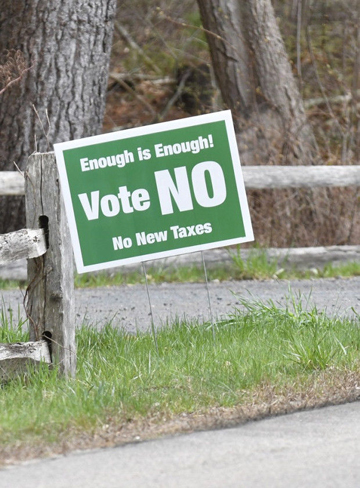 Turnout was strong with 4,843 or 37.5 percent of the town's 12,898 registered voters turning out to the high school on a very wet day....
Selectmen had also advocated for the override. "I was surprised how much it lost by," selectmen Chairman Robert Kimball said. "People have spoken. We have to regroup and figure out how to make it work. We'll continue to explore different ways to create finances."
Kimball added "conversation of an override has to be moot for awhile." ...
Local officials estimated the projected tax impact would have been 98 cents on the tax rate, and the owner of a typical $324,000 home would have paid $318 more in taxes.
Unlike a Proposition 2˝ debt exclusion that pays for building projects over the life of a bond, a budget override is a permanent tax hike.
Supporters cited the need for more revenue to provide important school and town government services.
Opponents contended residents are struggling as is to pay their bills, and there was a worry seniors would have been forced out of their homes.
Voters by slightly less than 200 votes rejected a $3.7 million override last May.
The Sun Chronicle
Wednesday, April 26, 2017
Norton voters oppose budget override
---