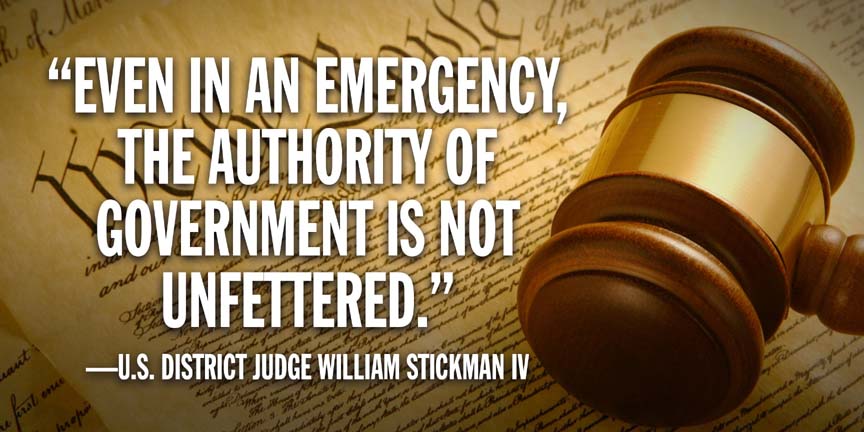 ---
The (Lehigh Valley, Penn.) Morning Call
Monday, September 14, 2020
Federal court: Gov. Wolf's COVID restrictions on businesses and gatherings are unconstitutional
By Daniel Patrick Sheehan

State-imposed shutdown orders that required people to stay home and placed limits on public gatherings aimed at halting the spread of COVID-19 in Pennsylvania were "well-intentioned" but unconstitutional, a federal court in Pittsburgh ruled Monday.

"Good intentions toward a laudable end are not enough to uphold governmental action against a constitutional challenge," U.S. District Judge William S. Stickman IV wrote in a 66-page ruling that said Gov. Tom Wolf's actions violated constitutional guarantees of the rights to free assembly, due process and equal protection.

As the pandemic hit Pennsylvania in March, Wolf and Health Secretary Dr. Rachel Levine ordered nonessential businesses to close, imposed stay-at-home orders and limited public gatherings in a bid to disrupt transmission of the deadly airborne virus that has killed more than 7,800 residents and sickened more than 145,000.

Wolf, a Democrat, has since lifted many of the restrictions, allowing businesses to reopen and canceling a statewide stay-at-home order.

The ruling means that current restrictions, including ones that limit the size of indoor gatherings to 25 people and outdoor gatherings to 250 people, can't be enforced, according to attorney Thomas W. King III, who represented the plaintiffs.

"It's really 100% in our favor. The court found in all respects that the orders issued by the governor and the secretary of health were unconstitutional. What it means is they can't do it again, and they should not have done it in the past," King said.

The ruling was praised by state Republican leaders and small-business associations. The National Federation of Independent Business, which represents 13,000 small businesses in Pennsylvania, issued a statement reflecting on what the association deemed contradictory state directives that allowed big-box stores to stay open while small businesses had to remain closed early in the pandemic.

In his opinion, Stickman wrote that the case was about weighing the government's power to infringe on people's rights in order to protect the public. He noted that the greatest threats to constitutional liberties can arise when the intent is good, especially in emergencies.

"In an emergency, even a vigilant public may let down its guard over its constitutional liberties only to find that liberties, once relinquished, are hard to recoup and that restrictions — while expedient in the face of an emergency situation — may persist long after immediate danger has passed," wrote Stickman, an appointee of President Donald Trump.

Wolf to appeal

Wolf spokesperson Lyndsay Kensinger said the administration is disappointed with the decision and will ask Stickman to allow restrictions to remain in place while it appeals.

Courts had consistently rejected challenges to Wolf's power to order businesses to close during the pandemic, and many other governors, Republican and Democrat, undertook similar measures as the virus spread across the country.

"The actions taken by the administration were mirrored by governors across the country and saved, and continue to save lives in the absence of federal action," Kensinger said.

She added that the decision is especially worrying as Pennsylvania and other states face the possible resurgence of COVID-19 and the flu in the fall and winter.

The ruling applies only to limits on the number of people at indoor and outdoor gatherings as well as the stay-at-home and business-closure orders that were lifted this summer. It does not affect any other mitigation orders announced in July, including mandatory telework, mask-wearing, worker safety and building safety orders.

Allentown liquor law attorney Ted Zeller said the ruling keeps intact most of the restrictions on Pennsylvania's bars and restaurants. That includes the upcoming change allowing restaurants that self-certify coronavirus safety efforts to operate at 50% indoor capacity, up from the current 25%. Those changes, which go into effect Sept. 21, also stop alcohol sales at 10 p.m.

What the ruling does change, however, is in regards to gatherings, such as a wedding at a restaurant or hotel with a liquor license. Those venues will now be able to have indoor gatherings that exceed 25 people, a restriction that had stifled an important revenue stream for many hospitality businesses.

Challenges from businesses

The federal case was filed by four counties — Washington, Greene, Fayette and Butler — and plaintiffs included hair salons, drive-in movie theaters, a farmers market vendor, a horse trainer and several Republican officeholders who sued as individuals.

"No one diminished the fact that there is a disease. We didn't get into an argument about the science," King said. "We did challenge the things that the business community and the people in our counties found most offensive."

King said the Wolf administration and Health Department had the opportunity to present evidence but did not call any medical professionals as witnesses. The state's primary witnesses were deputy chiefs of staff from the governor's office and the Department of Community and Economic Development, which oversaw the process for businesses to apply for waivers to the closure order, King said.

King said the plaintiffs' case also highlighted what he called a double standard in Wolf's attendance of a protest and Health Secretary Dr. Rachel Levine's secret agreement to allow a central Pennsylvania car show with tens of thousands of attendees to go on.

"The issue is how do you tell a church group they can't have more than 250 people, how can you tell President Trump he can't have more than 250 people?" King said.

He added that nothing in the order requires people to do things they believe are unsafe.

"It's all about the American way of life and people being individually responsible for their actions," King said.
Pennsylvania restaurants that self-certify coronavirus safety measures can go to 50% capacity Sept. 21, Wolf says; no alcohol sales after 10 p.m. »

Under the "red phase" of Wolf's three-phase plan, stay-at-home orders were imposed, only "life-sustaining" businesses such as grocery stores were allowed to be open, and schools and child care facilities were closed. Large gatherings were prohibited, restaurants and bars were limited to carry-out and delivery, and travel was discouraged except for life-sustaining purposes.

Stickman wrote that decisions as to which businesses were "life-sustaining" and which were not was an "arbitrary, ad hoc process."

The stay-at-home and business closure orders were eased in the yellow and green phases, but the outdoor gathering limit of 250 people prompted large events, such as Musikfest and the Allentown Fair, to cancel their events.

Some counties, like Allegheny and Philadelphia, have their own pandemic restrictions. King said Monday he thinks the judge's ruling invalidates those, as well.

Pennsylvania Speaker of the House Bryan Cutler of Lancaster County and House Majority Leader Kerry Benninghoff of Centre County, both Republicans, issued a joint statement praising the ruling.

"For the millions of unemployed Pennsylvanians, the thousands of small business owners that have seen their livelihoods permanently ended, and all those looking for some relief from these unilaterally imposed, inconsistent and contradictory shutdown orders, this opinion offers some form of hope that a return to normalcy might be on the horizon," they wrote.

In the statement, the lawmakers said the ruling confirmed their argument that Wolf's use of emergency authority is unconstitutional, and urged the governor to work with the General Assembly to develop a plan that keeps Pennsylvanians safe but does not penalize them.

The Associated Press contributed to this story.
https://www.mcall.com/coronavirus/mc-nws-coronavirus-federal-ruling-wolf-restrictions-20200914-rm5zn7maq5gjzoevs5txf6pzem-story.html
---
The Hill
Monday, September 14, 2020
Federal judge rules Pennsylvania's coronavirus orders are unconstitutional
By Justine Coleman

A federal judge ruled on Monday that Pennsylvania Gov. Tom Wolf's (D) coronavirus orders, which shut down the state, closed businesses and limited gatherings, were unconstitutional.

U.S. District Judge William Stickman IV, a Trump appointee, said in his opinion that COVID-19 orders from Wolf and Pennsylvania Secretary of Health Rachel Levine violated and continue to violate the First Amendment right to freedom of assembly and the due process and equal protection clauses of the 14th Amendment.

The efforts to stop the spread of the coronavirus "were undertaken with the good intention of addressing a public health emergency," Stickman wrote.

"But even in an emergency, the authority of government is not unfettered," he added.

"There is no question that this Country has faced, and will face, emergencies of every sort," he wrote. "But the solution to a national crisis can never be permitted to supersede the commitment to individual liberty that stands as the foundation of the American experiment."

Four Pennsylvania counties — Butler, Fayette, Greene and Washington — along with Rep. Mike Kelly (R-Pa.), three state representatives, and seven businesses and their owners challenged the state government's coronavirus orders. Their lawsuit was filed in May, when these counties were in the "red" phase that required residents to stay at home.

The governor's office did not immediately return a request for comment on the new ruling.

Previous rulings have rejected several challenges to Wolf's coronavirus orders. In July, the Pennsylvania Supreme Court ruled the state legislature could not end the coronavirus shutdown.

Other governors across the country took similar steps early in the coronavirus pandemic, with most states implementing stay-at-home orders and shutting down businesses.

Pennsylvania has since lifted most of the coronavirus restrictions but still limits indoor gatherings to 25 people, outdoor gatherings to 250 people and indoor dining to 25 percent occupancy. The indoor dining capacity is expected to rise to 50 percent on Sept. 21, according to CBS Pittsburgh.

Pennsylvania has documented 140,842 confirmed COVID-19 cases and 7,869 deaths since the beginning of the pandemic. The New York Times categorizes Pennsylvania as a state where cases are "lower and staying low," with a seven-day average of 676 new cases per day.

https://thehill.com/regulation/court-battles/516333-federal-judge-rules-pennsylvanias-coronavirus-orders-are
---
The (Louisville, KY) Courier Journal
August 29, 2020
Beshear, Cameron submit briefs to state Supreme Court in COVID-19 emergency orders case
By Ben Tobin

Kentucky Gov. Andy Beshear and Attorney General Daniel Cameron each submitted opposing briefs Friday to the Kentucky Supreme Court as part of the commonwealth's high-profile case regarding Beshear's COVID-19 emergency orders.

The orders were in jeopardy after Boone Circuit Judge Rick Brueggemann indicated on July 16 he would side with Cameron in his attempt to block them and stop Beshear from issuing new ones.

Before Brueggemann published his ruling, though, the Kentucky Supreme Court issued a stay on July 17, effectively halting the rulings in both the Boone County case and a similar one in Scott County until the high court has a chance to review the cases.

Oral arguments before the court are scheduled for Sept. 17.

In the governor's brief, Beshear's counsel argues the orders have "saved thousands of lives" and the governor has the constitutional authority to invoke emergency powers during a pandemic.

"The Governor — above all else — has a constitutional duty to protect the public safety and welfare of all Kentuckians from this emerging and deadly disease," the brief reads.

The brief goes on to argue that the executive branch has not violated constitutional separation of power and has not acted unilaterally, as the General Assembly passed measures related to COVID-19 that did not alter Beshear's executive powers.

It also argues the judicial branch has acted on its own to stem the spread of the coronavirus, as the Supreme Court canceled most in-person court appearances statewide.

Lawyers for Beshear also argue that Section 1 of the Kentucky Constitution, which grants Kentuckians fundamental rights, does not prevent the regulation of business, "nor would it when the state seeks to protect public health and welfare."

A ruling against Beshear "would prevent any statewide response to COVID-19 and would threaten the ability to protect the public health and, in turn, Kentuckians' lives," according to the brief.

Meanwhile, in the attorney general's brief, Cameron's legal team argues that several states with fewer restrictions than Kentucky, such as Tennessee, have a lower COVID-19 mortality rate. Since declaring a statewide state of emergency on March 6, Beshear has issued more than 150 orders, guidance documents and regulations, the brief says.

"This declaration touched off a dizzying cavalcade of orders, guidance memoranda, and regulations that impacted or controlled nearly every aspect of Kentuckians' lives," the brief reads.

Cameron's brief argues Beshear's orders violate constitutionally mandated separation of powers and infringe on individuals' continually protected rights to earn a living and to be free "from the accumulation and exercise of absolute and arbitrary government power."

The attorney general's counsel also says Beshear cannot exercise power with respect to an emergency until local governments inform him that they are "incapable of handling the emergency themselves," per state statute. Beshear disputed this understanding of the statute in his brief.

The brief also points to Beshear's orders facing a history of legal challenges: "Tellingly, he has not won a single case."

The filings of the opposing briefs is the latest step in the legal battle between two of Kentucky's top constitutional officers.

In June, several Northern Kentucky businesses, including a bakery, a child care center and Florence Speedway, filed a lawsuit in Boone Circuit Court against Beshear's administration, arguing its COVID-19 orders were making it nearly impossible for them to stay financially afloat.

Related: Lawsuit goes after Gov. Andy Beshear's limits on Florence Speedway, child care

Cameron intervened on behalf of the businesses and said soon after Brueggemann's ruling in favor of the racetrack and child care center that it would apply statewide.

The attorney general then filed a motion in Boone Circuit Court that argued all of Beshear's COVID-19 emergency orders are arbitrary and violate the constitutional rights of Kentuckians. Brueggemann agreed, and if the Kentucky Supreme Court hadn't stepped in, Beshear's emergency COVID-19 orders would have abruptly ended.

Cameron criticized Beshear once again Saturday, saying he has "unilaterally made the law in Kentucky without input from the General Assembly."

"These laws have drastically changed how Kentuckians can live their lives, raise their families, operate their businesses, and make a living," Cameron said in a statement. "The Governor simply does not have the authority to act as a one-man legislature, even during a pandemic."

Meanwhile, after Cameron made his move to block Beshear's past and future executive orders, Beshear called the action "scary and reckless."

"I'm relieved," Beshear said July 17 following the Supreme Court's motion to stay the Boone and Scott county cases. "I'm relieved because I've stayed up the last two nights not sleeping, worried about how many people would die if we didn't have any types of rules in place."

As of Saturday evening, Kentucky has reported 47,577 COVID-19 cases and 921 coronavirus-related deaths since the start of the pandemic in March.
---
The Boston Globe
Tuesday, September 15, 2020
Baker, already faced with a historic chance to reshape judiciary,
could now name the entire SJC
By Matt Stout

The sudden death of Supreme Judicial Court Chief Justice Ralph D. Gants has left the Massachusetts bar and broader political world mourning a jurist considered a "giant" within the court's centuries-long history.

The tragedy also has opened the door for something rare, and perhaps unprecedented, in its modern iteration: Governor Charlie Baker could select an entire high court of his own nominees.

With Justice Barbara A. Lenk nearing her mandatory retirement in December, Baker must now weigh his sixth and seventh nominations — including his first for chief justice — to the seven-person bench. Should his picks be confirmed, the Republican governor will finish a historic remaking of the oldest continuous sitting appellate court in the Western hemisphere.

No governor since Francis W. Sargent, whose final term ended nearly 50 years ago, has tapped six new high-court justices while in office, the Globe has reported. And it's unclear if any governor has named as many new SJC jurists as Baker will have since the early years of the state's constitution.

Alan Rogers, a Boston College history professor who focuses on American legal history, said he's aware of one governor who nominated seven new justices to the state's highest court: John Hancock.

"The John Hancock," Rogers said of the Commonwealth's first and third governor and the first person to sign the Declaration of Independence. Originally a five-person bench, the SJC didn't add its seventh seat until 1873, 80 years after Hancock's death.

"It would be increasingly unusual, in a modern era, for that to happen," Rogers said of seven nominations.

The possibility is real for Baker only because of a mixture of circumstance and tragedy.

Gants's death at 65 shook the state's judiciary on Monday, prompting an outpouring for the affable, highly respected jurist who just days earlier had disclosed he suffered a heart attack but said he intended to resume his full duties. After 11 years on the SJC, Gants was still four years from facing mandatory retirement in September 2024.

Baker, speaking Tuesday at an unrelated event in Fitchburg, indicated he had not yet considered how he would approach filling Gants's seat. He described his death as a "shocking and in some ways, overwhelming event" — one, he said, made all the more unexpected given the "energy, kinetic energy" with which Gants lived.

"That's a really bright light that just went out," Baker said. "Honestly, given the short time frame between hearing the news about — it's not even 24 hours — on Justice Gants, we haven't thought much about next steps. There is a process. We need a few days to figure that out."

His team had been anticipating the departure of Lenk, 69, who had originally intended to retire in August, but later delayed her departure until Dec. 1 so the high court wouldn't be short one justice when oral arguments began this month, a court spokeswoman told the Globe last month.

Amid pressure to expand the diversity of the bench, Baker had reopened the nominating process for Lenk's successor in a bid to potentially expand the pool of replacements. Three of his appointees have been white men — only Kimberly S. Budd, a Baker nominee, is a person of color on the current SJC — and four of his five nominees were onetime prosecutors.

It's a makeup that has spurred calls from legal groups for Baker to broaden his consideration, including weighing applicants with a background in racial justice, civil rights, criminal defense, or legal services.

But in filling Gants's seat, legal observers say, Baker faces both a different chance and challenge. Traditionally, governors have turned to the current members of the bench in picking a chief justice, who plays both the leading legal and administrative role within the state's judiciary.

Baker knows those choices well. He nominated each of the remaining judges beyond Lenk, including three at one time in 2016 in Frank M. Gaziano, David A. Lowy, and Budd. Justices Elspeth B. Cypher and Scott L. Kafker were sworn in during 2017.

Baker's office did not address questions of whether the governor intends to make his selection for chief justice from the current court, saying only that he can, but is not required to, pull from its ranks.

"It's a challenge for the court . . . and you are talking to a chief justice who never served as a judge on any court," said former chief justice Margaret H. Marshall, who held the role for 11 years until December 2010.

"It was exhausting work. I had another four years to go [when I retired] and I used to say to Chief Justice Gants, when you get to the 11th year, you really feel like you're running out of steam," she said.

The unexpected nature of Gants's death could compound the complexity of Baker's decision-making.

While the court can continue to function with just six justices, a vacancy opens the possibility of split rulings. It also adds to the work being handled by the remaining judges during an already demanding time in which the pandemic has stressed the state's resources and, like in other government agencies, scrambled the court's normal operations.

The SJC, for example, is already weighing a challenge to the sweeping emergency powers Baker has wielded amid the novel coronavirus pandemic, a decision Gants had been expected to participate in even though he wasn't present for oral arguments last week.

"It is a job on top of a job, to be chief justice. And being an associate justice is a hugely demanding role" as is, said Lisa Goodheart, who chaired the state's Judicial Nominating Commission under Governor Deval Patrick and was involved in recommendations for each of his SJC selections.

Patrick picked five new justices for the court over his two terms and nominated two chief justices, including Gants in 2014.

"He's a giant," Goodheart said of Gants. "The loss is profound and the need is great. I think the governor has a daunting challenge, really. . . . To have [a vacancy] be totally unexpected and to be the chief, that is really a huge mountain to climb."