---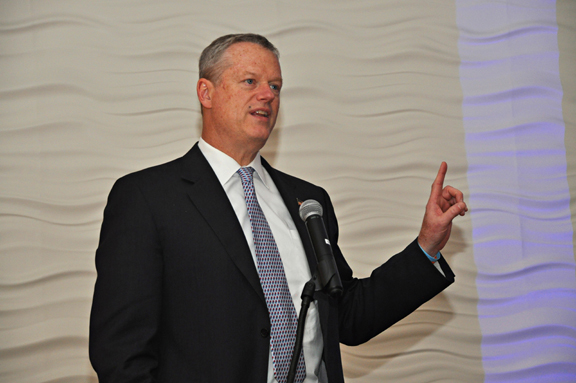 Gov. Baker speaking of her accomplishments
at our Celebration of Life remembrance for Barbara Anderson
Sunday, June 5, 2016
The Howie Carr Show Website
Monday, June 6, 2016
Celebration of Life for Barbara Anderson
By Howie Carr

. . . Before her death, Barbara had forbidden any funeral services. But her partner Chip Ford and her longtime associate at Citizens for Limited Taxation Chip Faulkner figured she wouldn't have objected too strenuously to a "Celebration of Life," with hors d-oeuvres and a cash bar.

The unbilled headliner was Gov. Charlie Baker, who stopped by on the way back from the UMass Medical Center Commencement in Worcester. After he graduated Harvard, Charlie's first job was as the flack to the Mass. High Tech Council, which was run by CLT's closest political ally, Howard Foley. (Foley has since moved to Colorado.) In the brutal 1980 statewide campaign to pass Prop 2½, high tech provided the cash, and Barbara furnished the troops on the ground.

The taxpayers won, 59-41.

"Prop 2½," Charlie said, "was the most important political event in Massachusetts of my lifetime."

I agree, and it was nice to hear him say it. Once the hacks, at both the municipal and state levels, no longer had carte blanche to beggar the working classes, everything changed. Barbara accomplished so much more – the fights against the progressive income tax, the repeals of the income-tax "surcharge" and the "temporary" income-tax increase, the Governors' radio show, etc. – but Prop 2½ was the big enchilada, the sine qua non.

Also among Barbara's friends in attendance was Gerald "Tooky" Amirault, who was railroaded into prison for 18 years in the Fells Acre Daycare frame. It was Barbara's final wish that he get some measure of justice, or at least have his ankle bracelet removed after 12 years on parole.

At Lombardo's yesterday, Tooky finally got a chance to speak directly to Baker, one-on-one. We all understand that it's up to Tooky to make the initial outreach to the Parole Board, but it would help if he knows how the governor feels about his petition. Not only Charlie but his State Police detail shook Tooky's hand as they left Lombardo's; I take that as a good sign. . . .