After-Action Report
by Chip Faulkner
CLT Director of Communications
To CLT activists and supporters:
On October 24 Citizens for Limited Taxation testified before a Joint Committee in the State House for the fifth time since early June. This time it was before the Joint Committee on Transportation.
I appeared to testify against S.1959, a bill to implement new tolls on major highways in greater-Boston, after expanding the "Metropolitan Highway System" to include I-93 (Route 128) and I-95 from Canton north to Woburn, Reading and Wakefield, Route 1 north to Peabody, and Route 2 west to Lexington.
I testified as part of a panel which included Rep. David DeCoste (R-Norwell) — (left in photo below) and Steve Tougas, a Quincy taxpayer-activist — (right in photo below). Rep. DeCoste, incidentally, is one of the most taxpayer friendly legislators on Beacon Hill. His most recent CLT taxpayer rating was 100%. Representative DeCoste went first and was brief and to the point. Why he asked, are you penalizing Massachusetts drivers who want to see an event in Boston? You are asking them to shell out even more money in tolls to get to their destination.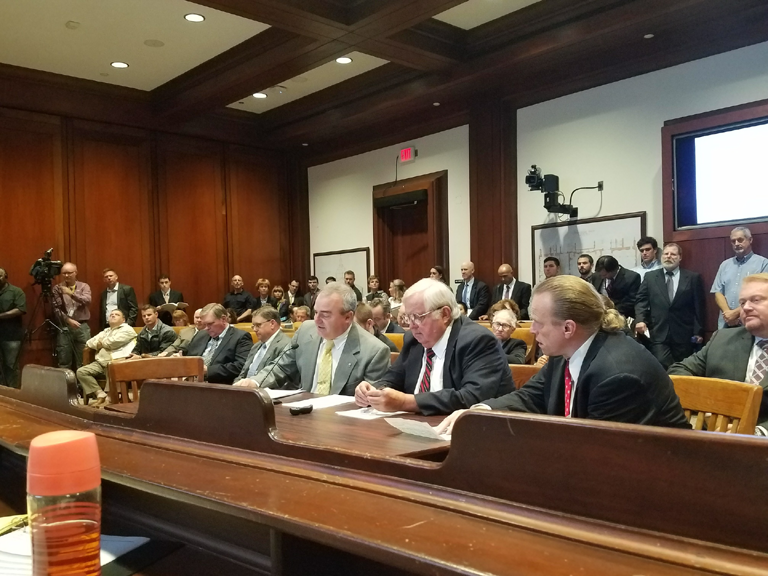 I started off my testimony by listing the various ways the state imposes taxes and fees just for the right to drive around the state. Among them: Paying a state sales tax on buying a car can amount to over a grand if the car is $20,000 or more, and every time you pump a gallon of gas the state gets 26.54 cents, as well as hitting you up for the auto excise at $25 per thousand. It used to be $66 per thousand until the reduction to $25 appeared on the 1980 ballot as part of Proposition 2˝ — thanks to CLT. Of course we can't forget the auto registration fee, driver's license fee, and annual inspection fee.
Depending on the value of the vehicle and miles driven annually, the average person could be shelling out anywhere from several hundred to well over a thousand dollars a year in payments to Massachusetts. My point was to show this committee that adding tolls would only be one more financial burden to bear just for the "privilege" to drive in Massachusetts.
The second part of my testimony was to demonstrate how wasteful Massachusetts spending is for running its highway system. I relied on a September 2016 policy study from the Reason Foundation, entitled "22nd Annual Highway Report –The Performance of State Highway Systems."
For example, maintenance costs per state-controlled mile in Massachusetts totaled $78,313 while the national average was $25,996. Administrative expenses costs per mile was $74,924 in Massachusetts while only $10,051 nationally.
I asked, "Why doesn't the committee look into these exorbitant costs and unconscionable waste and come up with cost savings? Then they wouldn't have to sock the commuters with this plan for expanded and additional tolls."
Needless to say, when it came time for questions from the committee, silence was golden.

Chip Faulkner
Communications Director